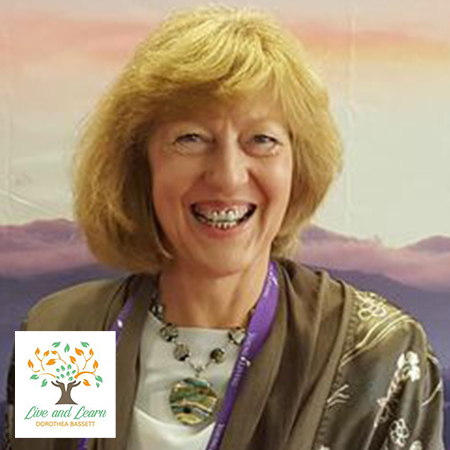 Live and Learn Kinesiology Practice
Want to find out my availability, pricing or opening hours? Click on Send Me Details Now to get started.
Send Me Details Now
Clicking on the Send Me Details Now button opens an enquiry form where you can message Dorothea Bassett directly
Live and Learn! Tune in and tune up your life!
Kinesiology
Servicing area
ONLINE SESSIONS available now! BOOK ONLINE!
---
Focus areas
Nervous system
Digestive disorders
Health assessment
Brain integration
Face to face
Love
---
Touch for Health Kinesiology Workshop
Please refer to my workshops and classes page!!
https://liveandlearn.net.au/workshops-and-classes/
Learn which is the best food for you, the best supplementation… the best essential oils and how very much your emotions are influencing your health and well being. Gain invaluable insight into your own body-mind system !
I am a internationally accredited and certified Instructor for TFH and will issue IKC certificates for my classes! ( https://www.ikc-info.org/)
Kinesiology Muscle testing is a remarkable tool - become empowered by learning Kinesiology techniques for your own use!
Gentle muscle monitoring is the key tool which we are all using, to receive answers from this infinitely intelligent computer that is call our body. Learn about the meridians and your body clock. In this localized field of information we are tapping into the knowledge of that amazing field of power! Watch the little video ! https://youtu.be/eeQm9s5D7d0
---
What is Kinesiology?
Kinesiology is an holistic approach to long lasting health and vitality. Discovered and developed over the past 100 years, kinesiology incorporates western physiological healing science with ancient eastern energetic healing techniques. In this way, kinesiology can address a wide range of physical, nutritional, emotional, mental and spiritual issues. Results can be felt immediately. Kinesiology is unique in that the kinesiologist is the facilitator of the body's own intelligence to be healed and whole.
The main tool used in kinesiology is gentle muscle monitoring. This is a form of direct communication with the physical, cellular, mental and emotional systems of the body. The muscle response from the client directs the kinesiologist to the cause of the client's problem and also to the correction required in order to resolve the problem.
Correction techniques used to help the body regain health include:
Meridian and acupoint stimulation

Acupressure (skin is not pierced)

Muscle stimulation
Sound

Emotional stress releas

Flower essences and vibrational remedies

Specific exercises such as holding stress points, reading affirmations.
Kinesiology can help you improve all aspects of life - from day to day living, to your performance in education, sport, business, finance, relationships.
Achieving and goal setting

Allergies

Anxiety, stress

Brain integration

Digestive disturbances
Disorders and disease
Eating disorders
Exhaustion

Fears and phobias

Hormonal issues
Learning difficulties and memory
Low energy
Muscular pain & sporting injuries
Sleeping difficulties
Weight loss and more
Your kinesiology techniques are tailor-made for you. Gentle muscle monitoring is used to locate stress - and then establish the priority treatment to release this and align you with your goal.
Once bookings are confirmed, I will send you a client form for you to fill in. I recommended to return it to me prior to the session date to optimise the session.Please drink plenty of water before starting is very important to have best results.
---
ONLINE SESSIONS ARE AVAILABLE NOW ! Convenient, time saving and very effective!
As a special bonus - if you mention this page when booking, I would like to offer you a lovely Aromatherapy gift with your first session!
---
What is a distance/online kinesiology session?
I connect to you and focus on you energetically, then work on you just like I do in a face to face session, except that it works on you indirectly. The distance kinesiology could be more powerful than face to face as we completely tap into a large-scale energetic field to each other.
How do distance/online kinesiology sessions work?
The overall sensations, your emotions and physical experiences are very similar to an in-person session, except I am muscle testing my body/energy on your behalf.
I get the same insights as I do in person, no matter if you are next to me or not.
We discuss your issues/goals in length first. I then muscle test against various charts, emotions and books to give you information about what is going on subconsciously.
We then carry out various energy balancing corrections together. I will perform the work on myself and show you how to do it on yourself.
---
Please note, this is not your average Kinesiology session – my magic is in the combination of all my skills.
When I tune into you and You will know that Your personal specific issues have really been acknowledged and addressed.
You will feel physically, mentally and emotionally rejuvenated and uplifted, light of heart, joyful, and relieved from niggling pains.
---
---
Contact me now to find out more!
Please visit my Youtube-channel and LiveandLearn Facebook page for more information!
LINK TO MY Dorothea's essentials4life FACEBOOK GROUP!
Kinesiology consultations
1hr
KINESIOLOGY THERAPY SESSIONS are a holistic approach to long lasting health and vitality. Discovered and developed over the past 100 years, kinesiology incorporates western physiological healing science with ancient eastern energetic healing techniques. I
Reflexology, Massage, Aromatherapy massage
1hr
My massage is as firm and deep as your body requires and according to your needs. I guarantee you a first class and professional treatment every time. I offer various massages from Full body to Back, Neck and Shoulders or just lower back or neck and shoul
Qualifications
Diploma In Kinesiology
Physiotherapy
Aromatherapy
Nordic Walking Instructor
Professional Membership
Australian Institute of Kinesiologists Ltd
---