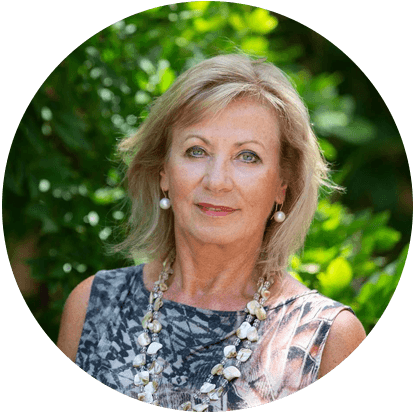 Solutions to Health
Want to find out my availability, pricing or opening hours? Click on Send Me Details Now to get started.
Send Me Details Now
Clicking on the Send Me Details Now button opens an enquiry form where you can message Dorota Wroblewska directly
Read what some of my happy clients have had to say ....Mention Natural Therapy Pages for a FREE 15 minute initial consultation. 
Solutions to Health - Success Stories
Servicing area
Randwick, Coogee, Bondi, Maroubra, Alexandria, Bondi Junction, Waterloo, Waverley, Sydney NSW
---
Focus areas
Conception
Weight management
Wellness
Mood disorders
Obesity
Metabolic syndrome
---
---
Calm and soothing environment

What I am about to say about Dorota will not give her the justice she deserves. Dorota is one of the most wonderful, caring people I have ever encountered and I am so glad I found her. Over the last 8 years I have seen many naturopaths, homeopaths and therapists, searching for anyone that could help me. Dorota is the only practitioner that I have felt completely and wholly at ease with, I can tell her anything knowing that there is no judgement and she is there purely to help me physically, emotionally and spiritually. I trust her completely. Dorota provides a calm and soothing environment where you feel safe and completely comfortable.

- C.L., Maroubra, NSW



---
I successfully got pregnant

I came to Dorota after 18 months of unsuccessfully attempting to conceive. My husband and I had been through all sorts of tests which indicated there was nothing wrong with either of us. Unfortunately, the next "logical" step was to proceed with IVF. Luckily, a number of factors meant that we delayed our start date for the IVF program. Dorota was providing me with nutritional support so that I would have the best chance of conceiving through IVF. With the delayed start date, we added to that herbal therapy. Dorota closely monitored my progress and offered great emotional support also. After 3 months of herbal remedy - and the first month of trying to conceive - success! To date, my pregnancy has been trouble free and I've had none of the nasty side affects that seem to plague pregnant women. With the incidence of people troubled by inability to conceive seemingly on the rise, I sing Dorota's praises any chance I get.

- KG, Haberfield NSW.



---
PCOS Story

After being diagnosed with Polycystic Ovarian Syndrome my doctor informed me that if I was not pregnant within six months time she would need to refer me to an IVF specialist. This was very scary to hear just before turning 27 and besides advising me to follow a low GI diet she gave me no other suggestions!

After much research into what PCOS is and the most effective treatment methods I came across Dorota's name and sought an appointment. I knew from the beginning I wanted to solve this naturally as I had been on and off the contraceptive pill for many years failing to find one that suited my body.

My first consultation with Dorota was so positive, informative and totally filled me with confidence. She pointed out things in my test results that my GP had failed to notice or mention!

Dorota told me that after starting the course of herbs and supplements that I would start to see positive results in up to 12 months time. After only six months I had two menstrual cycles that came right on time and when I was expecting the third I found out I was pregnant!

I now sit here writing this story with under one week to go before our first baby is born! On a more personal note, Dorota did more for me than just assess my health and give me herbs. She also fielded my desperate phone calls when I was in tears over my condition and she supported me every step of the way. Thank you so much.

- A.McD, Randwick



---
Dorota was recommended to us

My wife insisted that we see Dorota after unsuccessfully trying to conceive for 3 years. In the end we even saw an IVF specialist but my wife didn't like the idea of the hormone treatments.

Dorota was recommended so along I went with my wife for a consultation. I was forty then and my wife 33 years old, Dorota of course saw hope for a healthy baby and put us on a supplements regime for about 7 months supported with proper diet. It was pretty hard to say good bye to certain foods and the wine club as alcohol was a definite NO for us. She promised us a beautiful baby in the end and this is what we got. We are sure Dorota's supplements made her a calm and happy baby that sleeps through the night. She is now 5 months old and I celebrated her birth with Dom Perignon (and many other bottles). Soon the time will come when we'll be ready for our next baby and needless to say that we will be back in Dorota's office and embark once more on the not so long road of healthy preparations to conceive an other perfect child. She is a warm and kind person who believes in success through determination. She believes so you'll believe too.

Cheers,

- A&K, Maroubra



---
Drastic improvement in my egg numbers and embryo quality.

After 13 unsuccessful IVF attempts over 4 years I came to Dorota having heard from a friend about her success in treating infertility.

Dorota put me on a program of supplements and herbs and after 3 months I was showing a drastic improvement in my egg numbers and embryo quality.

My IVF doctor was surprised at this improvement and asked me what I was doing differently. On my second IVF attempt since starting this program I fell pregnant with my precious baby girl.

I am totally convinced that if it had not been for Dorota I never would have conceived my daughter. I now call her the "Baby Whisperer" and continue to see her for my general good health.

I would not hesitate in urging anyone with infertility of any kind to see her.

- K.D.R Mosman NSW



---
Glad I found her

Due to the stress of a relationship break-up and a long back injury, my reproductive system had ground to a holt, so much so, that my body was starting to give symptoms that "seemed" like early menapause, such as hot flushes and bloating, eventhough I had not reached 40yrs. I was referred to Dorota by another practioner. Dorota put me on a course of herbs and vitamins and improved my diet; now I have ovulated twice and have no more nasty symptoms and it has only taken a few months. As a bonus my energy levels and health have improved. Im so glad that I have met Dorota. In a way she has saved apart of my life. A very very important part. Now I still have the opportunity to have children in the future. If I ever have a child, as I would like to, Dorota will be the first person I call to tell of the good news. Until then I intend to give Dorota's card out, to any woman that needs it.

Thank you Dorota.

- M.R., Stanmore, NSW



---
Call Dorota on 93988052 NOW! to learn how she can help you to achieve your dream of becoming a mother. She is happy to offer hour FREE consultation to discuss HOW she can help You!

Please visit my website www.solutionstohealth.com.au for more information
---


Qualifications
Bachelor of Health Science
Advanced Diploma of Naturopathy
Advanced Diploma of Western Herbal Medicine
Advanced Diploma of Homeopathy
Diploma of Nutrition
Advanced Diploma of Natural Fertility Management
Advanced First Aid
Professional membership
NHAA National Herbalist Association of Australia 153084
ATMS Australian Traditional Medicine Society 12595
Naturopathic consultations
1hr
Initial Naturopathic consultation
Naturopathic consultation
1hr
Qualifications
Bhsc, Advanced Diploma Of Naturopathy, Advanced Diploma Of Western Herbal Medicine, Advanced Diploma Of Homeopathy, Diploma Of Nutrition
Professional Membership
ATMS - Australian Traditional Medicine Society