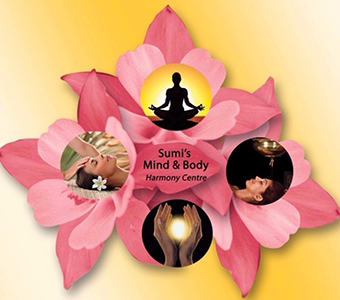 Sumi's Mind & Body
We here at Sumi's Mind & Body specialise in providing a range of professional Ayurveda & Massage Treatments, to people in the greater Castle Hill area. Reflexology is also available
Sumis Mind & Body - Ayurveda Massage
Focus areas
Dementia
Arthritis
Heart disease
Hypertension
Mental health
Obesity
---

Why Try An Ayurvedic Massage?

Ayurvedic massages builds stamina, reduces stress, relaxes the muscles, rids and protects the body against various ailments. These massages exercise the whole body, tones up the skin and muscles, improves blood circulation, repairs worn-out tissues, eliminates toxins and help reduce unwanted accumulation of fat. In women these massages go a long way in improving their complexion, body posture and help retain youthful suppleness.

Ayurvedic massages are also available for

Ailments
Arthritis
Rheumatism
Paralysis
Hypertension
Slip disc
Obesity
Sinusitis
Premature aging
Stress related disorders such as migraines, nervous disorders, depression
General health are offered in our centre
Important: An Ayurvedic practitioner is available by appointment at the centre


---

Ayurvedic Massages Available

Shirodhara
Involves the continuous application of warm oil, medicated milk or buttermilk on the forehead. The warm oil is streamed in a continuous flow through a spout at the bottom of the vessel which is suspended six to eight inches above the forehead. This therapy increases the flow of oxygen to the brain and nourishes the nervous system. It prevents diseases like paralysis, senile dementia, other neurological ailments and certain psychiatric diseases. This treatment also improves memory.
Price: $135 $170

Sarvangadhara
Involves the streaming of medicated liquid over the clients body. There are three different types of Dhara:

Snehadhara uses medicated oils
Takradhara uses buttermilk mixed with a medicated decoction
Ksheeradhara uses milk mixed with a medicated decoction

Price: $135 $170

Patrasweda
Involves body massage with herbal leaf bundles dipped in warm oil. This therapy brings great relief to sufferers of body pains and aches, rheumatism, arthritis. It also targets obesity, cellulite and detoxifies the body. It is effective for ailments due to Vata disorders.
Prices:
Full body: $135 $170
Specific part $90

Choornsweda
Involves body message with bundled herbal medicated powder. This therapy is effective for ailments due to Vata and Kapha disorders. It targets obesity and detoxifies the body.
Prices:
Full body: $135-$170
Specific part $90

Njavarakizhi
Involves body massage with bundles of special rice that has been cooked in a milk and herbal decoction and dipped in a warm medicated ointment. This treatment assists in correcting neurological disorders, rheumatism, arthritis and undernourishment of limbs.
Prices:
Full body: $135-$170
Specific part $90

Indian Head Massage
Therapist use pressure point massage on the head, scalp, face, neck, upper back, shoulders and arms, which helps unknot blockages, relieve tension and re-balance the bodys energy. Use specific oils to release stress like migraines, headache, neck and shoulder tension. This massage is good for imsomnia, falling hair.
Price: $35-$50

Herbal Steam Bath
This is an exudation process using herbal and aroma therapy steam for detoxification, stiffness, pain and swelling. During this steam bath, medicinal particles present in the herbal oil are absorbed by the body and the impurities within are excreted through sweat glands, kidney and liver. After using the treatment you feel light, fresh and relaxed.
Price: $35


---

Massage Therapy

Massages tone the muscles and are beneficial for our skin and nervous system. They eliminate the toxins from your body and boost blood circulation and the metabolic process. Various types of massage can be used for treating different problems.

5 vibro-massage is beneficial in removing cellulite, fat reduction, improve circulation and good for the nervous system. Aromatherapy massages use different essential oils and are particularly effective for stress, anxiety, muscular pain relief and psychosomatic induced problems.


---

Acupressure

A massage technique which involves pressure points that correspond to acupuncture points. It is used to balance the flow of prana (life energy) through the meridians and improves the bodys own healing power and thus prevents illness.


---

Reflexolog Treatments

An ancient healing technique also known as reflex zone therapy. We have reflex or energy channels in the feet which relate to each of our organs. By using this unique method of massage of the reflex points the energy channels are opened, restoring the energy flow around the body.
Price: $70 / hour


---
For more information about the best services for your needs or to organise an appointment - just give us a call!
---
---