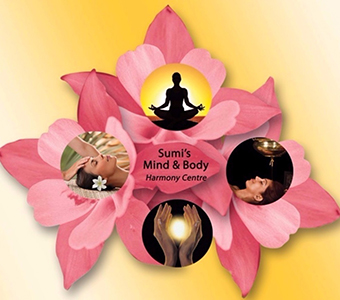 Sumi's Mind & Body
Facials, Body Treatments, Waxing, Henna Treatments, Body Toning, Hair Services. No matter what type of Beauty Treatment you're after, we here at Sumi's Mind & Body are the ones to call We proudly use Thalgo products, organic products and herbal products
Sumis Mind & Body - Beauty Therapy
Focus areas
Dementia
Arthritis
Heart disease
Hypertension
Mental health
Obesity
---
---

Special eye mask for anti wrinkle and anti puffiness as well as anti dark circle price $50 with any facial $35.

Facials

Deep Cleansing Classical Facial
Includes deep cleansing, exfoliation, steaming, black and white heads extraction, application of appropriate mask for different skin types followed by application of moisturiser.
1hr - $75

Deluxe Facial
Ideal for all skin types including dehydrated sun damaged sensitive skin and oily skin. Includes cleansing, steaming, exfoliation and black and white head extraction followed by relaxing pressure point massage of face, neck and shoulder with specific essential oils and creams followed by appropriate mask and moisturiser.
1.5 hrs - $85

Micronized Marine Algae - $95
For very oily skin
Combining pure natural algae with marine extracts, this treatment is naturally rich in minerals & vitamins. It stabilizes oil secretions & purifies the skin. The treatment provides all the elements needed for healthy skin, like a vitamin pill.

Algomega Warm Treatment - $95
For Dry to very Dry Skin
Relaxed and supple, your skin is radiant, nourished and replenished. It recovers an incredibly soft texture and the comfort that it was severely lacking.

Micro-dermabrasion - $130
A facial treatment inspired by the medical profession consisting of two techniques used by dermatologists for many years. Mechanical and chemical micro-dermabrasion are combined in one treatment for an intense and targeted exfoliation of epidermal skin cells resulting in an even, radiant complexion. The appearance of fine lines and wrinkles is reduced, elasticity restored and the skin is bathed in an optimal hydrating environment following a specialised mask therapy to complete the treatment

Aquarelle facial treatment - $85
The ultimate Thalassotherapy Facial treatment designed to energise and rebalance the vital functions of the skin through an incomparable concentration of minerals, vitamins and trace elements. This treatment optimises the skins receptivity to Thalgo Hydrating and Anti Ageing treatments and should therefore be the first step in long-term treatment of specific skin conditions.

Brightening Treatment - $160
For pigmentation and associated brown marks contributing to the appearance of skin ageing and a general skin lightening treatment.
This anti-ageing treatment is designed to restore the clarity, pureness and tone of childhood skin undamaged by the sun, hormones and scarring. Youthful radiance is restored through stimulation of the skins underlying support network and action on every stage of melanogenesis. The skin is smoothed and gradually lightens, pigmentation marks fade and new marks are prevented by the regulation and distribution of melanin.

Organic Facial Terre & Mer - $120
For all skin types
Organic plants exhaling pure scents of the Mediterranean and natural marine botanicals are amongst Thalgos eco-selection of ingredients customized with the purest essential oils to boost a soothing action or to super activate cellular regeneration. A sculpting back massage with organic oils is the calming prelude to this sensory journey where deep cleansing is followed by aromatic massage with fragrant balm and warmed botanical stamps. A luxurious creamy mask infused by a thermal cocoon is the double mask therapy that completes the ritual.

Anti-Age Control
Marine collagen facial -To smooth and fill (1.5hrs-$140)
Hyaluronic Filler Facial-fill deeper wrinkles(1.5hrs-150)
Silicium super-lift Facial (1.5hr - $170)


---

Specialised Thalgo Body Treatments

Micronized Marine Algae - $130
For silhouette refining & relaxation
The original marine algae wrap, rich in minerals & vitamins. This treatment assists in the reduction of fatty deposits, fluid retention & toxins (cellulite) by detoxifying the skin tissue. This
relaxing treatment gives a feeling of general well-being & relieves aches & pains.

Frigi-Thalgo - $120 (Package $110.00)
For cellulite, jodphur thighs, tired heavy legs as well as skin slackening
A cold wrap treatment, highly effective in eliminating excess fluid & toxins from the tissue,
activating cutaneous circulation, toning the skin & increasing elasticity

Marine Prelude - $140 (Package $130)
For an intensive remineralising exfoliation
Containing natural sea salts & marine mud to eliminate dead skin cells, refine skin texture & invigorate the entire body by activating micro-circulation. Includes reflex activity of the feet.

Aromaceane - $140 (Package $130)
Adaptable to the clients needs For silhouette refining, detoxifying, reviving or aiding relaxation. Combining the well-being of the ocean & marine minerals together with natural essential oils to
suit specific concerns:

Aroma Slender
Aroma Detox
Aroma Vitality
Aroma Relax
Includes reflex activity of the feet

Aromatic Massage - $70
Personalised to the individual needs
This massage, utililising pre-blended aromatic oils to individually treat specific concerns, borrows fundamental principles from Shiatsu & Swedish massage. This technique activates circulation & the lymphatic system, & ultimately relieves all signs of stress & fatigue.

For Stress - $150 (Package $140)
More than a new massage method, Mer & Sens body is a complete purifying, remineralising and relaxing treatment. The exfoliating and sculpting techniques are carried out with hot and cold
stones using slow, spiral movements. This sculpting massage create a sensation of tranquility and evokes a floating sensation.

Indocane - $150 (Package $140.00)
For vital relaxation
An invitation to vital relaxation which initiates the body & mind through an indescribable feeling of peace & inner strength. This wonderful ritual takes you on a voyage of discovery drawing from the riches of the Mediterranean Basin, Egypt, India & China.

Thalgomince LC24 Warm Body Wrap $150.00 (Package $140.00)
For Silhouette refining and localized cellulite
Assists in the improvement of micro-circulation, fluid retention and localized cellulite.


---

Hydro Therapy

Is a method of treating disease by application of water in different ways and varying temperatures. It includes cold and hot compresses, hip baths, hot and cold baths, arm and foot baths, spinal spray baths, steam inhalation, herbal and aromatherapy steam baths, hot and cold immersion baths and enemas. These also include body packs such as abdominal packs, wet sheet packs, throat, knee and chest packs.


---

Mud Therapy

Involves mud and marine algae treatments. These are quite beneficial in curing diseases with the help of other natural therapies. They detoxify the body, relax and clean the pores of the skin. They improve blood circulation and give relief from inner congestion and pain.


---

Far Infrared (FIR) Saunas
Detoxify safely & effectively
Energise the body & relax the mind
Clear cellulite & improce skin tone
Assist in weight management
$45 / half an hour
For 2 people: $80 / half an hour


---

Slim Tone Spa

Slim tone spa aims to smooth and shape your figure while the body is toned and shaped. This treatment is ideal for post natal toning, toning after weight loss or immobility, re-shaping thighs, buttocks, bust area and upper arm toning. This procedure tones and shapes your body while you loose weight on a calorie controlled eating program.

Change in your body can be felt from the first session. One hour on the slimming machine is equivalent to 6 hours at a gym. Quick results improve your motivation and self esteem and it is easy to maintain your shape after treatment.
$65 / 1 session & $600 / 10 sessions


---

G5 Massage Machine

The following benefits can be achieved using G5 Massage machines:

Stress reduction
Myofascial release
Sports rehabilitation
Deep muscle therapy
Trigger point reduction
Treatment of muscle spasm
Pain relief by removing lactic acid
Muscle relaxation to reduce fatigue
Helps tone muscles and prevent atrophy

Prices:
$45 / half an hour
$85 / 1 hour



---

Hair Services

Upstyle $45 $60
Henna on Hair from - $25
Hair Loss treatment from - $35
Head Massage - $50


---

Threading

A very unique technique to shape eyebrows and remove unwanted hair from face with cotton thread. Brings out excellent shape of the eyebrows. Can remove even the smallest of hair. Particularly good for people with sensitive and allergy prone skin.

Eyebrows - $12
Underlips - $10
Chin - $10
Full Face - $35
Face and Neck - $45
Eyebrows, Upperlips and Chin - $30


---

Waxing (ladies only)

1/2 Leg - $25
3/4 Leg - $35
Full Leg including Bikini - $50
Full Arm - $25
Bikini $12 $15
Underarm $12 $15
Face - $35
Face and Neck - $45
Eyebrow $12 $15
Upperlip - $10
Chin - $10
Eyebrow, Upperlip and Chin - $30
Sides $11 $15


---

Tinting

Eyelash - $15
Eyebrow - $12


---

Manicures & Pedicures

Manicure - $25
Manicure & Fruit-Acid Peel - $35
Gel Nail Overlay - $45

Pedicure - $45
Pedicure and Fruit-acid Peel - $65
Pedicure with 30mins reflexology - $79


---

Make Over Services

Evening $45 $60


---

Bridal Services

Makeup - $60
Hair, Mackup and Dressing - $200
Bridal Henna (Hands and Legs) $100 $500
Aruyvedic Massages - $150
Hens Pamper Day Out (minimum 4 people) - 15% off on all services


---

Henna (Mehndi) Services - from $5


---
For more information about the best services for your needs or to organise an appointment - just give us a call!
---
---