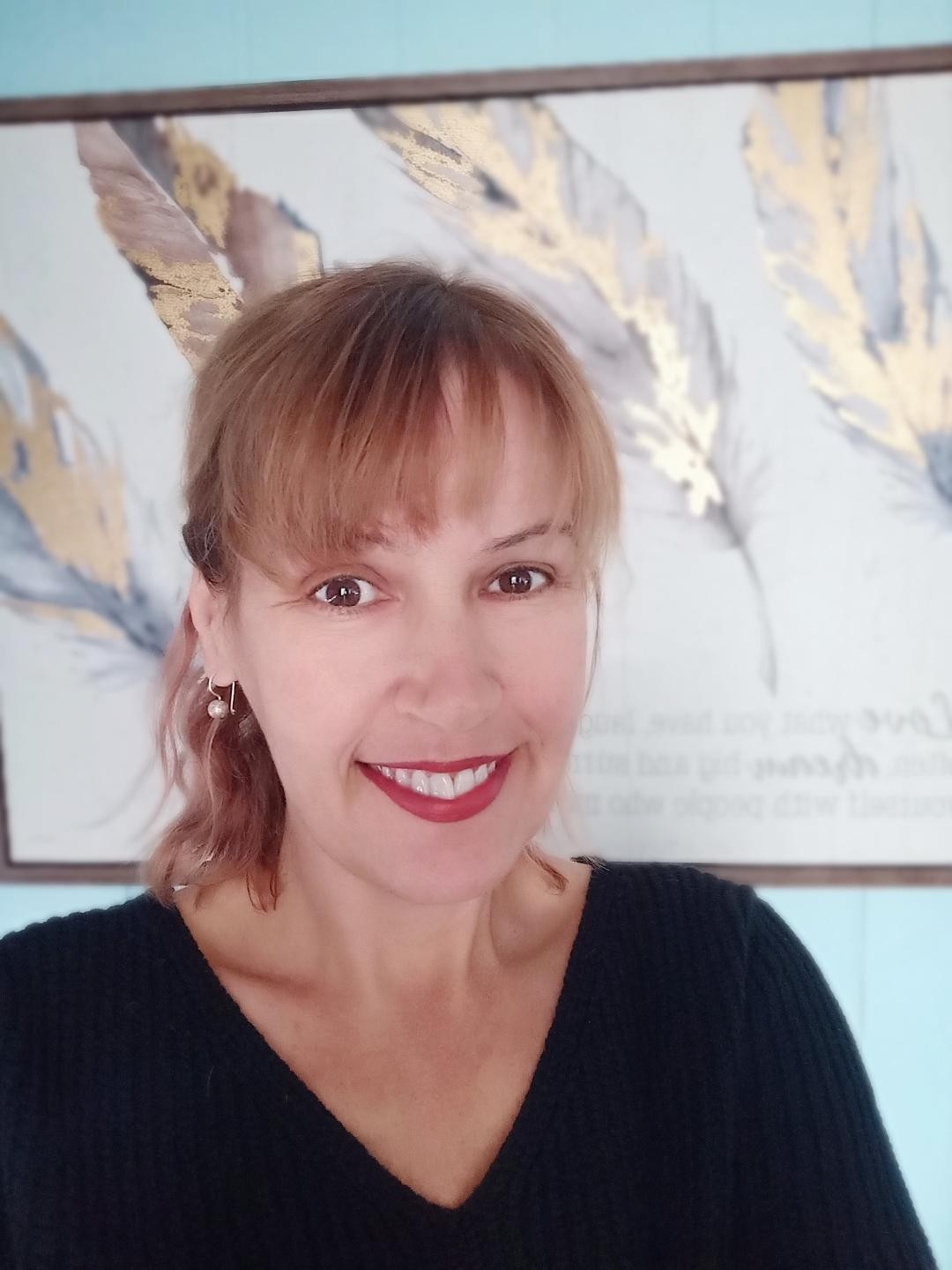 Member since 2021
Breathe YMR - Deb Roberts
Servicing area: Australia
Mindset
Health & wellness
Coaching
...
Want to find out my availability, pricing or opening hours? Click on Send Me Details Now to get started.
Clicking on the Send Me Details Now button opens an enquiry form where you can message Deb Roberts directly.
'Grow your dreams'
Assistance either in person or via Zoom.

Mind, Body, Soul Coaching for Women.
Business Coaching for Entrepreneurs, Fitness, Wellness, Recreational Professionals.

Offer:
30 MINUTE FREE ONLINE APPOINTMENT TO DISCUSS YOUR GOALS, NEEDS, WANTS, AND DESIRES.


For Women:
I help women find confidence, strength, connection, and peace to help them move forward and achieve goals, become stronger physically and mentally.
I do this through a blend of gentle Yoga, Pilates, and Wellness and Confidence coaching.
(Experienced and Beginners to Yoga and Pilates are welcome.)
Would you like to feel more connected, confident and achieve your goals?
Have goals but can't break down barriers?
Would you like to be stronger and more flexible, less stressed?
Are you struggling with the stages of menopause?
Would you like tools to help reduce stress and have some or more confidence?
I am here to help.
Deb x



Coaching Fitness/Wellness/Health/Coaching:
'Starting out' or 're-defining' entrepreneurs.
I help Men and Women define their Niche within the Recreational Industry.. Fitness/Wellness/Health/Coach.
Gain confidence, build a strong focused customer base.
Withstand competition and help deal with imposter syndrome.
This is a very personal coaching program, quite interactive, and true to your surroundings, needs wants, and desires.
I have been within the Fitness/Recreation industry for over 20 years.
I come with experience and my best experience is re-defining my life, my boundaries, my niche, and my brand at 49 years of age!
So those who are looking for a personal coaching experience with someone who has started out, and re-defined later in life..then I am here for you!
Deb x
Please read on, to get a better understanding of my programs.


Grow Your Dreams, Mind, Body, Soul Coaching. Physical/Mental and Business.
Please see below for the program information.


Program:
One-on-one coaching. 'Harmony For Women'
Women 40 years+ to help relieve stress, strengthen your body and confidence, aid Pre/peri Menopause and post-menopause.

Description: This program covers Yoga and the stages of menopause, movement, mindfulness, and self-care.
Touching base on body movement with the feeling of freedom, self-awareness, strength, mood swings, anxiety, and confidence.
With a beautiful blend of Yoga, Pilates, Core strength, opening chakras, breathwork, and self-care.

Approach:
This program can be done online or in person, or a combination of both.

What to expect:
- To commit to 2 - 3 hours per week for 6 weeks, blending class, coaching, and private practice.
- You will receive access to a Facebook group that suits your needs and interests.
- You will receive 1 x free guided meditation recording by Deb Roberts.

♥ Get ready to feel connected, feel the strength within your body and mind, feel and be aware of confidence growing and beautiful harmony♥


Program:
One-on-One Confidence Coaching.

Description: For Women of all ages
This program covers mental and physical awareness. Breathwork and Confidence Coaching, gentle Pilates, Gentle Yoga, and self-care.
Also touching base on limiting beliefs, goal setting, and steps to move forward.
With a blend of Confidence coaching, Pilates, Yoga, opening chakras, and discussions.

Approach:
This program can be done online, in person, or a combination of both.

What to expect:
- To commit to 2 - 3 hours per week for 6 weeks.
- Blending life coaching, Mindfulness skills, gentle movement with the modalities of gentle Yoga and Pilates.
- You will receive a free guided mediation specifically to suit your needs and requirements by Deb Roberts.

♥Get ready to feel more aware of your inner thoughts and have the tools in place to move forward with positive confidence - Mind, Body, and Soul♥


Program:
Corporate Mindset, Resilience, Confidence, Mindfulness
- Reduce stress and build confidence with Yoga/Pilates/Mindfulness and coaching.

Description: The Corporate world can be tough on us, creating all kinds of stress. Stress can have a serious effect on our bodies and minds.
This program is for men and women.
With a blend of Yoga, Pilates, mindfulness, breathwork, and relaxation with supported stretching.
To give those hard workers time out, headspace and space to feel wellness and peace.

Approach: This program can be done online, in person, or a combination of both.

What to expect:
- A commitment for 1.5 hours per week learning and practice (2 x 45 mins p/w)
- Relaxation
- Guided Meditations
- Confidence Building
- Mindfulness cues and tools
- Breathwork.
- Gentle movement for Corporate Professionals (Based on Gentle Yoga/ Pilates)

♥ Get ready to feel more positive within your role, feel at peace, learn tools to help stressful times. Giving you the strength to keep on moving forward with power, resilience, strength, and harmony.♥


My belief:
'Transformation'
I believe that all women are so different in their beautiful and unique ways.
Our thoughts, feelings, and body alter over time and sometimes it is hard to catch up!
I believe movement, mindfulness, and self-care all contribute to moving forward and breaking down barriers.
I have the privilege to help women pause and re-connect with their minds and bodies.
It is one of the most beautiful experiences, to watch women bloom like a flower or transform from chrysalis to a butterfly.
My programs focus on transformation.
My past history, work, and personal with my more current situations have helped me build these programs to help women create a space for building confidence, self-healing, and self-respect.
Awareness of their mind and body help the transformation, gaining confidence, power, inner peace, and connection.

My passion is to help Women feel physically and mentally strong, taking that time to be gentle with themselves, listening to their bodies and minds.
Feel inner peace - become 'un-stuck' - break down barriers - move with mindfulness and confidence - gain self-confidence - find yourself...be yourself again - set and achieve goals - listen to your body's needs and wants - practice mindfulness - feel connected - de-stress and aid anxiety - gain strength, tone, and gain flexibility -breathe calmly and deeply - practice self-care.


A little about Deb

I have been in the Fitness/ Wellness/Community and Recreational Industry for over 20 years.
Either within the roles of Yoga, Wellness, Manager, Co-ordinator, Personal Trainer, Fitness Instructor, Business Owner, part-time or full time.
In 2018 I decided that my work life was not really fulfilling me and I did not feel I was 'helpful' to others.
I dearly missed the contact with helping people achieve their goals and move forward in their lives.

At the age of 48 went off to India to participate in a Yoga Course within an Ashram, partially to give myself time to rethink my life direction and to add my qualifications and life experience.
Life has not been the same since!
I now put all my learnings and qualifications in place to help others build their lives and live their dreams.

Please, feel free to reach out.
Let's see if we can partner together to help get you re-connected, gain confidence with yourself and the world around you.
I look forward to hearing from you.
Have a beautiful day.
Warm wishes,
Deb Roberts ♥
Qualification details
Yoga for the stages of menopause by Yinstinct - Hatha Yoga by Gyan Yog Breath
- Level 1 Wellness coaching by Wellness coaching Australia - Restorative Yoga by Bliss Baby
- Mat Work Pilates by Zama Institute - Science of Slow Yoga by Subtle Yoga
-
---
Service categories
This practitioner provides online consults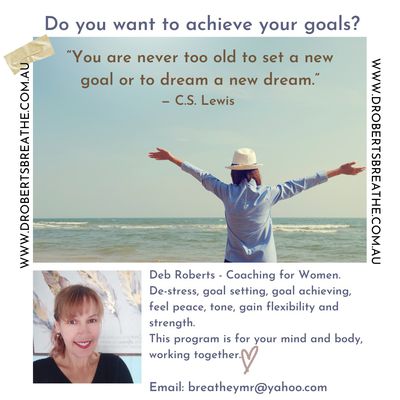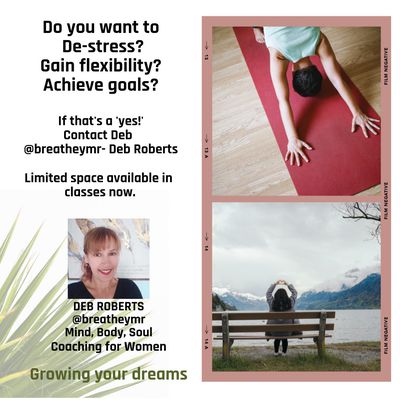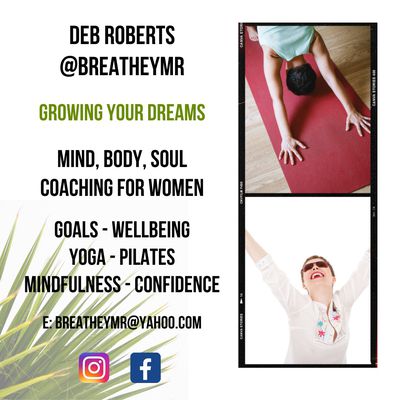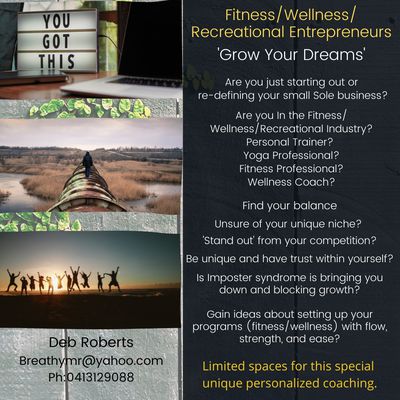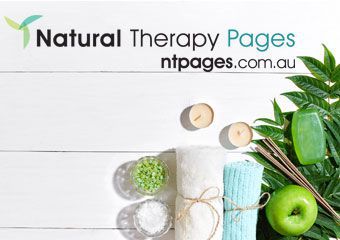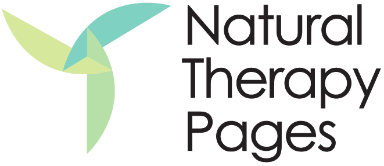 Breathe YMR - Deb Roberts