ACT
Best Theta Healing Practitioners in Australian Capital Territory

Member since 2006
ThetaHealing™ is one of the most profound, versatile, effective and life-changing forms of healing that is available today!
Purpose
Well-being
Sexuality
Aura
Happiness
Love
Frustration
Tension
Subconscious
Joy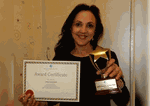 Member since 2008
Anna's many skills help to guide others along their path so that they can seek new ways of living, loving and being.
Subconscious
Purpose
Herbalist
Arthritis
Spirituality
Tiredness
Energy
Anxiety
Mediumship
Weight management

Member since 2014
No matter what personal, physical or emotional issue you're struggling with, Ilona here at Emotional Health Counselling is the...
Business
Grief
Healthy eating
Exhaustion
Creativity
Personal issues
Emotional wellbeing
Cancer management
Joy
Trauma
---
Find Theta Healing Specialists in other states
Top Theta Healing Specialists By Region
Nearby Suburbs for Theta Healing