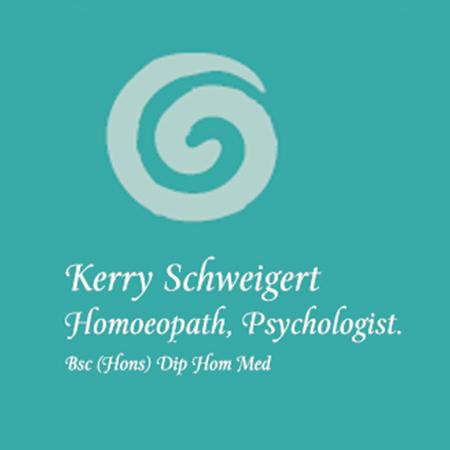 Kerry Schweigert
Clicking on the Send Me Details Now button opens an enquiry form where you can message Kerry Schweigert directly
Send Me Details Now
Kerry combines her many years of experience as a Psychologist with extensive knowledge of homoeopathic medicines to provide an integrated approach to promoting health and wellness on all levels.
Kerry Schweigert - Homeopathy
Servicing area
Bondi Junction, Sydney NSW & Australia wide via Coviu secured telehealth
---
Focus areas
Adults
Private health
Habits
Emotional wellbeing
Relaxation
Motivation
---
---
What Homoeopathy can do
Homoeopathic medicines enhance your general health and wellbeing, while at the same time reducing your susceptibility to future ill-health. Even small imbalances can be corrected before they develop into serious symptoms.

The holistic nature of homoeopathy means that emotional and behavioural disorders can also be treated successfully, where many other methods may have failed or had significant side effects. Symptoms are understood as an expression of an inner/energetic imbalance of the person, not just as a disease or disorder of a single part. Therefore the whole person, not just the symptoms, are treated.
---
Why choose Homoeopathy?
Homoeopathic treatment has been around for over 200 years and is the second most widely used system of medicine in the world today. Homoeopathy is a proven, safe and effective, non-intrusive, economic approach to total health care. Homoeopathic medicines are not synthesised drugs but are serial dilutions of natural products. The medicines work energetically, and are safe and non-addictive; suitable for all ages from babies to the elderly and are especially beneficial for those with depleted or fragile immune systems and low vital energy.
---
How does Homoeopathy work?
Homoeopathy recognises the intimate link between the body, mind and emotions. Homoeopathic prescriptions are based on a thorough understanding of the presenting symptoms, and at times medical tests may be required. Homoeopathic medicines work with the body's own natural healing mechanisms, strengthening the immune system and supporting the person's mental and emotional state, allowing an effective recovery on all levels. Side effects (if any) are usually rare and of limited duration but are easily antidoted.
---
What to expect from Homoeopathic treatment
The initial consultation involves taking a full case history with a detailed assessment of the presenting problem(s). This will take at least an hour as it covers the details of your presenting symptoms, health history, sleep and eating patterns and family health history when relevant. Your mental and emotional state are also taken into consideration. This allows the homoeopath to individualise your treatment.

Homoeopathic remedies usually act quickly and you should expect to feel better soon after beginning treatment. While all your symptoms will not disappear overnight, you can expect to notice some positive changes within a short space of time.
Homoeopathy can effectively treat many conditions...
Stress & anxiety
Depression
Addictive behaviours
Panic attacks
Sleep disturbances & Insomnia
Chronic conditions e.g. Arthritis, skin disorders, hypertension, ulcerative colitis, irritable bowel syndrome, migraine, ME/CFS, fibromyalgia
Recurrent and acute infections e.g. Colds & flu, hayfever, glandular fever, nausea & vomiting, gastrointestinal disorders.
Common children's complaints e.g. Ear infections, teething, asthma, constipation, diarrhoea
Children's emotional and behavioural problems e.g.
ADD/ADHD, bedwetting, tantrums
Women's health e.g. Cystitis, menstrual problems, pregnancy, menopause
Sports & exercise injuries
Sexual dysfunction
Medicare rebates available for Psychology consultations with GP referral. Health fund rebates for homoeopathy
---
For more information about the best services for your needs or to organise an appointment - just give us a call!
---
---