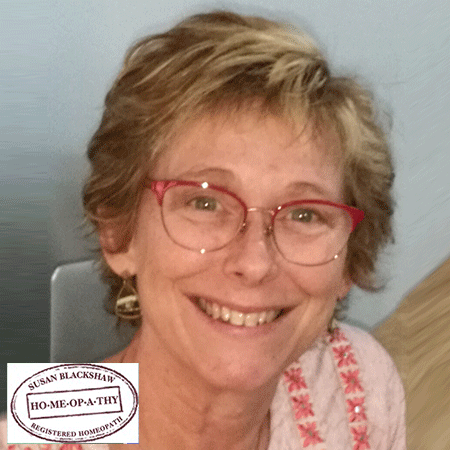 Want to find out my availability, pricing or opening hours? Click on Send Me Details Now to get started.
Send Me Details Now
Clicking on the Send Me Details Now button opens an enquiry form where you can message Susan Blackshaw directly
Susan Blackshaw Homeopath provides homeopathic treatment for people of any age & has helped them with a wide variety of health conditions.
Registered Homeopath & Homeopathic Treatment
Servicing area
Ashgrove, Paddington & Brisbane QLD
---
Focus areas
Natural medicine
First aid training
Chronic health issues
Infections
Anxiety
Emotions
---
---
Homeopathy aims to achieve a detailed understanding of the underlying causes of your symptoms, whether physical or emotional, basic or complicated. Homeopathics (pillules or drops) are then prescribed according to an appropriate homeopathic methodology that suits the individual case across treatment. The intention of homeopathic treatment is to stimulate a healing response so that a stronger/less susceptible state of health can be reached for that person. Individulaized treatment is a key principle of homeopathic practice as we recognize the uniqueness of each person.
Susan helped people with acute or chronic illnesses, including:
Repeated infections
Challenging emotions
Challenging children's behaviour
General conditions
In first aid situations
Women's Health
About Susan
Hello! I'm Susan Blackshaw, a Registered Homeopath (AROH) providing homeopathy to men, women and children who seek improved wellness from a wide range of ailments. I have been based in Ashgrove, Brisbane since 2002. I came to homeopathy when living in the UK when my young children were constantly being prescribed antibiotics for earaches. I was so impressed with the way homeopathic treatment benefited the family that I enrolled in a 4yr course to gain my homeopathic qualification, a wonderful addition to my nursing qualifications.
With a background in nursing and midwifery, I have a special interest in women and children's health (from ear aches to stress, anxiety, challenging behaviours, hormonal issues etc). I feel that homeopathy offers a simple support to everyone in the family not only in the early years but as the family traverses the health and development challenges across the life span.
Within the homeopathic interview a detailed audit is taken of the health history, responses and triggers in play for the individual and their presenting complaint. Homeopathy looks at the individual and how their health condition presents in them eg. The character of a 'headache' varies from person to person, so a homeopathic prescription for one person's headache would differ for another person's type of headache.
As a registered homeopath, I provide homeopathic support to the individual's constitution, the premise being that symptoms are the indicators of where one's vitality and constitution is vulnerable; so it follows that as the constitution strengthens, susceptibility reduces. In my 20yrs of Homeopathic clinical practice, this is a wonderful process to witness.
Please note that Homeopaths can not diagnose conditions, so visit your medical practitioner for assessment first, or if your symptoms are worsening. Also, no promises of cure are ever given for any condition and I will refer people on if positive changes aren't forthcoming in a reasonable time or if red flag symptoms are identified.
Homeopathy has been traditionally used in a holistic and individualised approach to address the specific disharmony in physical or emotional health, for over 200years. Homeopathic preparations are dispensed on pillules or in liquid, and are pleasant tasting ie., they are not strong tasting herbal tinctures, so children like taking their homeopathy!
On-line bookings are available at
www.susanblackshaw.com.au
or ph 0418716027.
Telehealth appointments are available via Skype or zoom or phone.
---
From March 2020: Face to Face consultations are suspended in the current situation in accord with Australian Health Department Directives.
For current worldwide news and research on homeopathy follow these links:
The Aurum Project is an Australian charity dedicated to improving the health and wellbeing of children through natural medicine and advances the understanding and practice of homeopathy through research. Click the link below to find out more:
https://aurumproject.org.au
---
Book now to learn more about homeopathy.

---