Find a Emotional Freedom Technique (EFT) Practitioner in your area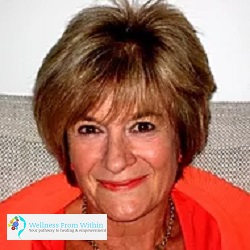 Member since 2008
Wellness From Within
June Brown
This practitioner is currently unavailable.
You must be willing to change some of the ways in which you work in the relationship before you take part in counselling. Don't expect advice on how to change your partner.
Relationship/Marriage Counselling For Effective Communication & Improving Relationship Skills
---
What is Relationship/Marriage Counselling?
I think it is a great privilege to sit with couples and help them to understand their problems and to guide them towards a loving relationship by becoming self-aware, knowing their partner, and developing skills in an intelligent, delicate, and frank communication.
Connections form the basis of your life and affect how you work in so many other areas in your life. These cover your interactions with your family, your professional conduct, how you interact with family and friends, and how your physical and emotional well-being is influenced by the inherent frustration and tension.
I will help you to find the strength of your friendship and to help you decide whether the bruises and suffering can be repaired, driven by my experience and insightful questions. Mostly, they are going to succeed when people are willing to do the work. Occasionally, though, that may not be the best result.
The consultation presents you with the perfect opportunity to gain insight into your partner's underlying source and sense of disconnection and why you fight all the time. Discussion of problems in a safe space can open up the possibility to clarify, understand and connect. There is an ability to heal past misunderstandings and accidents with greater confidence. Knowing the brain and how depression changes your logic and perception can allow you to regain your control while being self-sufficient, so you do not pull the cap and lament what you do and how you do it. Regrettably, it can take time to reverse the damage until events happen. You will improve your scope to learn and to feel compassion for yourselves and your spouse as you analyse previous life events and habits learned from your family of origin.
What Skills Will You Learn?
Counselling will help you make adjustments you usually don't know how to make yourself. This provides a safe and supportive environment in which all concerns, thoughts and actions that are disturbing cannot be publicly recognised and addressed, however you learn to deal with them successfully. This includes:
Learn to be more successful in conversation
Learn to express your desires in your partnership clearly and openly
Learn how to convey painful emotions correctly and show them
Enrich yourself and your partner's comprehension
Educated to negotiate for a change in the relationship
The opportunity to assess more precisely what issues can be fixed so that you can repair your partnership if a spouse wants a divorce
Book an appointment to find a solution to your problem.
---
Service categories