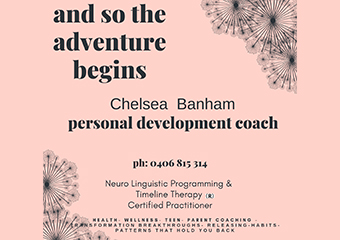 Clicking on the Send Me Details Now button opens an enquiry form where you can message Chelsea Banham Health and Wellness Coach directly
Send Me Details Now
Chelsea Banham Personal development coaching
Chelsea Banham Health and Wellness Coach
Focus areas
Anger
Fears
Trauma
Trauma relief
Sadness
Anxiety
---
---
About
I've personally used these profound modalities to access the depths of unconscious mind to release trauma, limiting beliefs and fears.

Now I have my mind, body and soul all working in harmony I'm passionate about sharing this gift with the world.

So if you're sick of where your life is, and you are READY for massive change then I'm committed to helping you create the life you want.

By working directly with your unconscious mind, I can help you:
Quit Smoking For Life
Lose Weight + Have a strong positive relationship with healthy eating
Remove Anger, Sadness, Fear, Hurt and/or Guilt you're carrying around
Overcome Addiction
Overcome Anxiety
Overcome Phobia
Overcome Fears (fear of failure, fear of success, etc)
Remove Limiting Beliefs and Install Empowering Beliefs
Increase Confidence and Self Belief
Replace Procrastination with high levels of Motivation
Program your goals into your unconscious mind so you have no choice but
to achieve all that you set out to do.
Plus much more.
If any of this resonates, get in touch., I'm taking clients immediately.
Qualifications
NLP Practitioner
Hypnotherapist
Holistic Therapist
Quit Cigarettes Specialist
Hypnosis Practitioner
Intuitive Healer
Soul Coaching Practitioner
Certified Master NLP Practitioner
Certified Master In Time Line Therapy™ Practitioner
Self Discovery Coach
Neuro Linguistic Programming Coach (USA)
Hypnotherapy Master Practitioner
Timeline Therapy Master Practitioner
Breakthrough Coaching Practitioner
Access Bars® Facilitator
Access Consciousness Bars® Practitioner
---