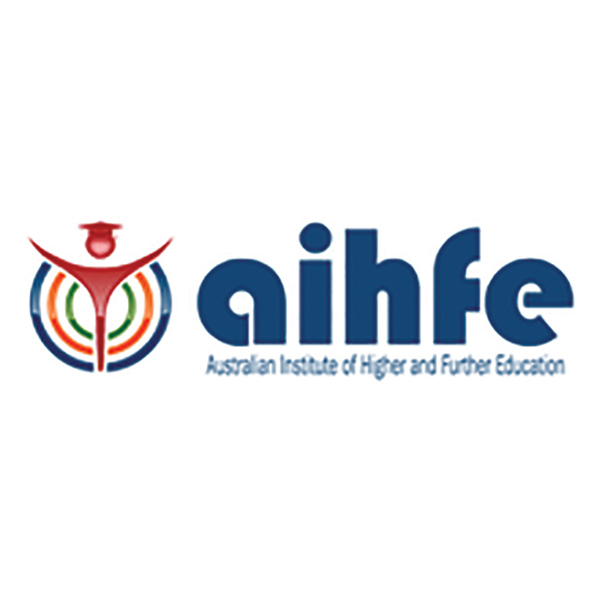 Limited spots remaining. Enquire now to secure your spot. Click the Button Below ▼
Send Me Details Now
Award-winning Registered training Organization with 30 years of track record. Training and education is our passion.
About Australian Institute of Higher and Further Education (AIHFE)
Servicing area
Nationwide
---
---
MISSION
Our MISSION is to provide a quality education in multiple disciplines including complementary medicine, health, wellness and cognate disciplines, business, law and professional and personal development courses coupled with strong and positive learning experiences and student services which focus on measurable outcomes for graduates. AIHFE fulfills its mission with integrity, a strong sense of duty, responsibility and commitment to its students, staff and stakeholders. As a centre of higher learning, AIHFE provides its students with knowledge, practical skills and confidence and empowers them to become valuable members of society. In providing its educational services, AIHFE efficiently uses its resources and continuously strives to achieve excellence. Its educational and clinical programs meet and exceed contemporary business benchmarks and comply with the requirements of all relevant accreditation authorities.
VISION
Our aim is to be a leading Australian provider of vocational, personal and professional development and tertiary education programs, focusing on complementary medicine, health, wellness and cognate disciplines, professional and personal development courses and to respond to other educational areas of community needs. Its educational services aim at the achievement of excellence, as measured against international best practice. AIHFE's vision is to provide courses of the highest quality which contribute to the achievement of a culture of educational excellence, thereby cementing its place as a global player who achieves regional excellence.
Why choose AIHFE?
We consider it a privilege to serve you and help you to realise your dream! Here are a few reasons why you should study at AIHFE
AIHFE was established to meet your educational needs with the genuine passion of those who are the backbone of the institute with over 25 years of experience in education. The quality of training that you will be getting from us is assured; we know and love what we do.
AIHFE Diploma and Advanced Diploma and some certificate courses are nationally recognised and industry endorsed.
Our blended delivery mode allows you to study all the theory units from any destination as long as you have a good internet connection and a computer.
All our practical classes/ clinics are held as intensive programs and or work place which allow you to work and study and balance your lives and get real practical experience.
Our virtual classrooms are in real time with real people so that you can interact with your teachers and fellow students, ask any question, and get them answered in real time. We bring the school to you.
We offer self-paced personal and professional development programs that are result- oriented and industry endorsed.
We provide our students with counselling and a range of additional academic support services.
At AIHFE you are a valued member of our college; your goals and dreams are important to us.
We will help you along the way to make them a reality
At AIHFE we treat you like a real person with individual needs and circumstances, not just a number.
Testimonials
You can study this ancient wisdom right here in Australia!
Samantha found out about this complete holistic system when she was doing Yoga training in India, and was stoked to find out that she could complete an Advanced Diploma in Ayurveda right here in our own backyard - and with the flexibility she needed while making the most of her learning with her own 'ayurvedic' pregnancy, and raising a very young family.
Australia needs more practitioners in Ayurveda! Even if you're busy now…
When Alena started the course, she wasn't sure if she could handle studying as well as manage her career in Civil Engineering and have time to enjoy her family life. But she did it! AND Alena started providing some Ayurvedic treatments to clients from her home, when she was only half way through the course, and continued to study for her full graduation.
You'll find something you love in the learning – and it just makes sense!
Emma had been working in complementary therapies all her life but had been disheartened that she was just 'fixing' people temporarily. What inspires Emma is that with her Ayurvedic training and skills, she is now able to empower people to heal themselves - for life!
I was a Yoga teacher but something wasn't 'clicking' for me…
Despite being a Yoga teacher, Supriya was facing her own personal health challenges when she learnt about Ayurveda. She knew there was something missing when she was teaching just Yoga … and she's now found the missing pieces of the holistic system through Ayurveda and is now running her own specialised practice.
This was the best experience for Annie!
Annie graduated with her Advanced Diploma and now loves her job as an Ayurvedic practitioner! Annie will tell you that the staff and the teachers were very supportive and nurturing during her study, and that the journey has been wonderful and life changing.
Be inspired to heal – that's what the world needs right now.
Szelmis has found the knowledge and her Ayurvedic skills to be life changing not just for her clients, but for her family to. She has established her own practice and developed her own Ayurvedic skin care range! Szelmis will tell you that the rewards are amazing, and every step of the way is a deep self healing journey. Just do it!
Limited spots remaining. Enquire now to secure your spot. Click the Button Below ▼
Send Me Details Now
---