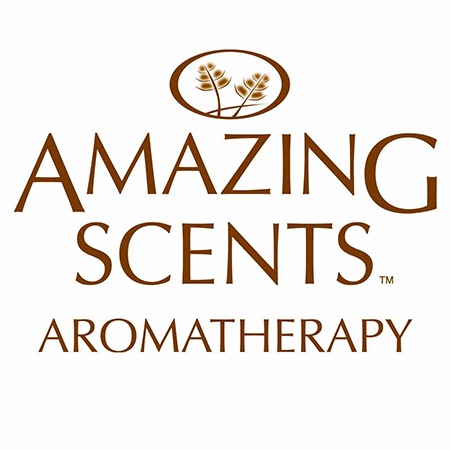 We are proud to offer you a vast range of the finest quality pure essential oils, bases and accessories
Amazing Scents Aromatherapy
Focus areas
Anxiety
Skin care
Adrenal fatigue
Emotions
Essential oils
Stress management
---
---
Nature has provided us with healing agents that can be used to enhance our mind, body and spirit. This healing agent comes in the form of 'pure essential oils', which are extracted from aromatic plants, trees and grasses.
The quality of these oils varies due to processing, organic production, country of origin, and method of extraction. The wide range of extremes in growing and picking plants is reflected in the price of each pure essential oil. For example, 30-40 roses are required to produce 1 drop of rose oil.
Amazing Scents sources premium grade essential oils, as the quality of an essential oil has a pronounced effect on the degree of the result. Our oils are sourced from all over the world to bring you the results you desire, and at an affordable price.
We are proud to offer you a vast range of some of the finest quality pure essential oils available in the world.
Our range of 45 oils includes:
Basil, Bergamot, Black Pepper, Cajeput, Cedarwood, Chamomile (German), Cinnamon Bark, Clary Sage, Clove Leaf, Cypress, Eucalyptus, Fennel, Fir, Frankincense, Geranium, Ginger, Grapefruit, Jasmine, Juniper, Berry, Lavender, Lemon, Lemongrass, Lime, Mandarin, Marjoram, May, Chang, Myrrh, Neroli, Nutmeg, Orange, Palmarosa, Patchouli, Peppermint, Petitgrain, Rose, Rosemary, Rosewood, Sandalwood, Spearmint, Tea Tree, Thyme, Valerian, Vetiver, Wintergreen, Ylang Ylang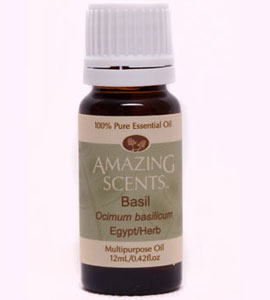 Shampoo Base (250ml)
Conditioner Base (250ml)
Invigorate and revitalize your hair with our fantastic range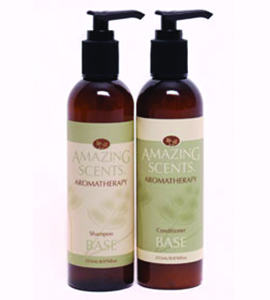 Invigorate and revitalize your hair with our fantastic range of hair care products that emphasise the advantages of natural ingredients over harsher chemical surfactants. Our hair care range caters for all types of hair and can be combined with your personal choice of essential oils to create a shampoo and conditioner that are best suited for your needs.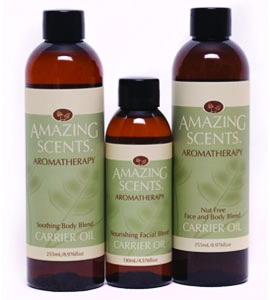 Soothing Body Carrier Oil (255ml)
Nourishing Facial Oil (130ml)
Nut-Free Carrier Oil (255ml)
Carrier oils (also called base oils) are used to dilute essential oils and "carry" them into the skin. The effectiveness of the carrier oil is determined by its quality and method of preparation. Each carrier oil has different properties, and the choice of carrier oil can depend on the benefit being sought. Our Carrier Oils are superb examples of natural, unadulterated carrier oils combined to nourish your skin.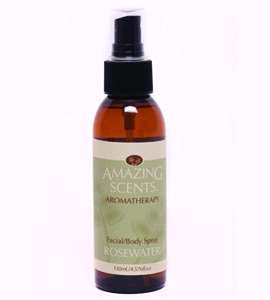 Floral waters (or hydrosols) are produced during the distillation of essential oils - they contain the water soluble portions of the plant. These highly nourishing waters have a variety of beneficial uses. They can be used in facial and body mists, used as a cologne or as a room spray. They are gentle and calming, and although they already contain quantities of their source essential oil, it is common to also add a synergistic blend to the floral water.
Our pure Rose Water comes in a handy spray dispenser, that when combined with 20-30 drops of your favourite synergistic blend and shaken well, will allow you to invoke your particular aroma as you see fit. These great products are compact enough to fit inside your handbag, which makes them ideal for outings or when you are on the go.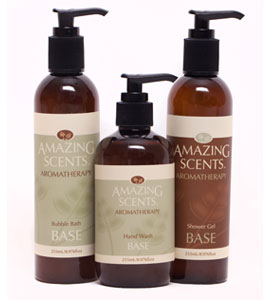 Sea Salts Bath Soak (350g)
Hand Wash Gel Base (255ml)
Our shower and bath range provides an easy and practical way to use aromatherapy on a daily basis. As most of us shower in the morning, the use of a shower gel that has been enhanced by adding your favourite oils is a great way to start the day. A bath with pure essential oils, transferred to the water using a bubble bath base or sea salts, may be just what you need after a long day at work to make you feel like new again.
Our Hand Wash Gel is proving to be invaluable as most of us wash our hands 30-40 times a day. Now you can receive essential oils into your skin every time you wash.
Face and Body Lotion Base (255ml)
Lavender Face and Body Scrub (100g)
Face Crème Moisturiser Base (250ml)
Facial Cleanser Base (125ml)
Having base skin and body care products to which you can add the pure essential oils of your choice gives you a flexibility that would not normally be afforded by other products. Our skin and it's condition varies depending on outer and inner elements and therefore the ability to change our skincare products to meet specific needs is of great benefit.
Exfoliate dead skin cells with our Lavender Face and Body Scrub, clean those pores with our Clay Mask Base, and moisturise and renew your skin with our Face and Body Lotion Base or Face Crème Moisturiser. Simply add the pure essential oils of your choice to any of these products to make you and your skin glow.
Reference books expand your knowledge of recipes and what oils can do. Whilst you may have a large collection of books on aromatherapy, not all are friendly to use or up to date with current safety and contra-indications. Jennifer Jefferies is an outstanding author that speaks our language - she takes a serious subject and makes it simple and easy to implement into our lives. This knowledge allows you to use your oils with versatility, ensuring their effectiveness and ease of use - thus protecting your investment so far. These 3 books are a must have for anyone serious about aromatherapy!
Cedarwood Essential Oil Box (handmade)
Often how much you get out of your oil collection can be reflected by what you can use them with or in. We aim to provide everything you may need so that you get the full use and economy that everyday use of aromatherapy can provide. Please take a look at our workshops to see what we can share with you to enhance this even further.
---