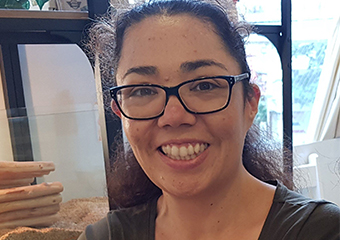 Want to find out my availability, pricing or opening hours? Click on Send Me Details Now to get started.
Send Me Details Now
Clicking on the Send Me Details Now button opens an enquiry form where you can message Kristin Hatherley Reiki Healer directly
Find balance and happiness from a hands-on or distance Reiki Session. Even your pets can enjoy a session!  
Kristin Hatherley Reiki Healer
Servicing area
Canberra ACT & All Australia via Zoom
---
Focus areas
eDISC
Negative emotions
Emotions
Crystal reiki
Animal reiki
Stress management
---
---
Reiki
Reiki is an ancient method of hands-on healing that was rediscovered in Japan in the 1800s and its translation is rei = universal and ki = life force. When the energy in the body is blocked as a result of stress and negative emotions the flow of ki in an individual is disrupted and can lead to a range of health conditions and ill health. The practitioner will gently tap into this universal life force and direct this subtle energy to where it is most needed in the body, mind, and spirit to restore balance and harmony to the client.
Reiki can balance you at all levels of your being, including:
Balance Chakras – Learn how to find harmony within the body when the Chakras are balanced.
Balance mental – Learn how to still the mind and become more positive in life. See how positivity can influence every aspect of your life.
Balance emotional – Learn how to find calm and peace of mind when your emotional state is in control.
Balance spiritual - Learn to find your spirit again and connect with your Angels and Spirit Guides.
Reiki is perfect for you if:
You feel out of balance
You can see your life is out of control
You're under stress
You're constantly tired all the time or have lack of energy
You have negative emotions in your life which you need released
I offer a number of services including:
Traditional Usui Reiki
Crystal Reiki
Karuna Ki Reiki
Distance Reiki via Zoom Conferencing
"Kristin is amazing! I suffer from chronic pain due to past injury, which tends to lead to debilitating migraines. Kristin identified my neck as a point of treatment she was lead to – without any past knowledge of my history. She treated the areas she was lead to; the alleviation was such a relief." - Marianne - Sydney
Please note when calling, that unfortunately my clinic has limited reception so please leave a message and I will call you back again.
*** CORONA VIRUS UPDATE ***
I will be open but only doing distance reiki healing via zoom.
Distance healing is as affective as in person reiki and many of my clients have been greatly benefited by it. You'll notice that when we do a healing session together that I don't even touch you. This is because Reiki can work over space and time. So you could be in the same room or on the other side of the world and Reiki will still work.
Animal Reiki
Reiki is a gentle method of treatment that can also be used on animals. It can help animals that have gone through significant trauma or who have behavioural issues. At times animals can also possess negative emotions from owners. This isn't the fault of the owner, but it is actually a choice that animals make to help the people they care for. Distance sessions are also available for animals and may be suited to timid or sensitive animals.
---
For more information about Reiki & Animal Reiki, view my website, send me an email or give me a call
---
---