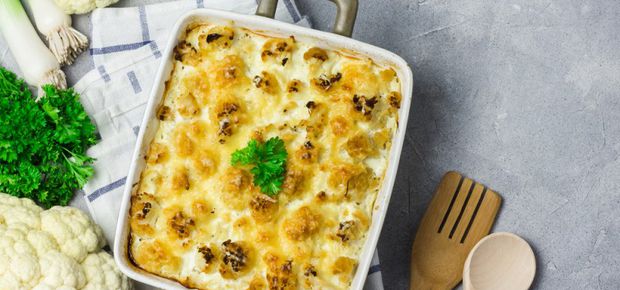 Cauliflower and broccoli are probably two of the healthiest vegetables around. Though the two have a bad reputation of being not delicious, especially among kids, there are actually many ways on how to cook these vegetables and still enjoy it. And we will show you one way how. But first, let's talk about the many health benefits of eating cauliflower and broccoli.
Health benefits of cauliflower
Contains many nutrients
High in fiber
Good source of antioxidants
May aid in weight loss
High in choline
Rich in sulforaphane
Low-carb alternative to grains and legumes
Health benefits of broccoli
Packed with vitamins, minerals and bioactive compounds
Contains potent antioxidants
Protects against certain types of cancer
May aid blood sugar control
Supports heart health
Promotes healthy digestion and reduces constipation
Slows down mental decline and support healthy brain function
Helps slow the aging process
Supports a healthy immune system
Supports dental and oral health
Promotes healthy bones and joints
Helps support a healthy pregnancy
Helps protect skin from sun damage

Cauliflower and broccoli gratin
This delicious cauliflower and broccoli gratin makes simple makes for a delicious dinner special. It can be served on different nights with roast meat, or as part of a vegetarian spread.
Ingredients
1/2 head cauliflower, cut into florets
1 head broccoli, cut into florets
1/3 cup water
2 tbs plain flour
2 cups milk
pepper, to taste
1/2 cup cheese
For the cheese sause
500ml (2 cups) milk
1 brown onion, halved, coarsely chopped
4 fresh parsley stalks
4 whole black peppercorns
2 whole cloves
1 dried bay leaf
30g butter
2 tablespoons plain flour
40g (1/2 cup) coarsely grated tasty cheese
Salt and ground white pepper, to season
Method
Preheat oven to 180°C.
To make the cheese sauce, combine the milk, onion, parsley stalks, peppercorns, cloves and bay leaf in a medium saucepan and bring to a simmer over medium heat. Remove from heat. Set aside for 15 minutes to infuse.
Strain milk mixture through a fine sieve into a large jug. Discard solids.
Melt the butter in a large saucepan over medium-high heat until foaming. Add the flour and cook, stirring, for 1-2 minutes or until mixture bubbles and begins to come away from the side of the pan. Remove from heat.
Gradually pour in half the milk, whisking constantly with a balloon whisk until mixture is smooth. Gradually add the remaining milk, whisking until smooth and combined.
Place saucepan over medium-high heat and bring to the boil, stirring constantly with a wooden spoon, for 5 minutes or until sauce thickens and coats the back of the spoon. Remove from heat.
Add the cheese and stir until cheese melts. Taste and season with salt and pepper.
Meanwhile, steam the cauliflower for 5 minutes. Add broccoli and steam for a further 2 minutes or until bright green and tender. Drain.
Arrange the cauliflower and broccoli in a ovenproof dish.
Melt butter in a frying pan over high heat until foaming. Add garlic and cook, stirring, for 30 seconds or until fragrant. Add breadcrumbs and cook, stirring, for 5 minutes or until golden brown. Remove from heat.
Pour cheese sauce over cauliflower and broccoli. Sprinkle evenly with breadcrumbs. Bake in preheated oven for 15 minutes or until golden brown and heated through. Remove from oven and serve immediately.
For more healthy recipes, visit our recipe section.
Do you have a natural health & wellness business?
Sign up now and advertise on Australia's #1 natural health website.
Or visit our Wellness Hub to help you stay current about the industry.