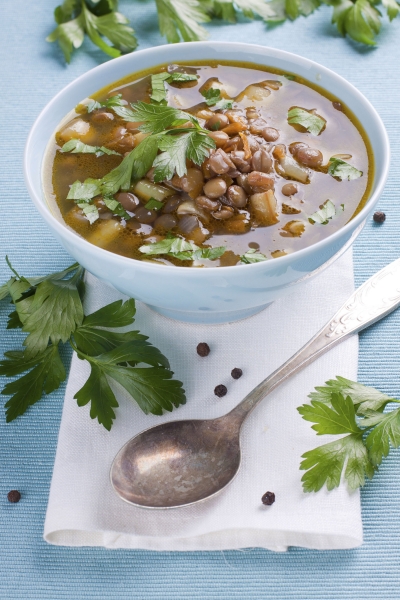 When the lonely grey skies and icy air of winter leave your teeth chattering and your body frozen, fight it with a pot of warm chicken soup with lentils and kale. Aside from being delicious and tummy-filling, this nutritious recipe is perfect for winter because it's rich in protein, fiber and other vitamins and minerals that will keep you well throughout the cold season.
Mixing in lentils will add texture to your soup, plus these legumes are a good source of protein too. They're also packed with magnesium, iron, potassium, folate, phosphorus, manganese and B vitamins.
In addition to chicken and kale, you also want to have some crispy kale leaves in your soup as these can contribute to its flavor and nutritional value. Kale is from the cabbage family and can be eaten in different ways. It works in salads, sandwiches, pastas and a wide range of side dishes and sauces.
Going back to its health benefits, kale is rich in fiber, calcium, iron, potassium, antioxidants, and vitamins C and K. If this information is whetting your appetite, it's time to head to the kitchen and cook.
Ingredients
1 tablespoon olive oil
1 cup of chopped onions
1 cup of coarsely chopped carrots
2 cloves of minced garlic
6 cups of chicken broth
1 tablespoon of fresh basil
4 cups of coarsely chopped kale,
1/2 teaspoon of salt
1/8 teaspoon of ground black pepper
1 1/2 cups of cooked & cubed chicken breast
1 medium tomato (seeded and chopped)
1/2 cup of red lentils
Method
In a large saucepan, heat the olive oil over a low to medium heat. Add onion, carrots, and garlic. Cover and cook for 5 to 7 minutes or until vegetables are nearly tender. Stir occasionally.
Add chicken broth to the vegetable mix. Bring to a boil and reduce heat. Cover and simmer for 10 minutes. Stir in kale, salt, and pepper. Return to boiling and reduce heat. Cover and simmer for 10 minutes.
Stir in cooked chicken, tomato, red lentils, and fresh basil. Cover and simmer for 5 to 10 minutes more until kale and lentils are tender.
For more healthy recipes, go here.
Do you have a natural health & wellness business?
Sign up now and advertise on Australia's #1 natural health website.
Or visit our Wellness Hub to help you stay current about the industry.
Originally published on Jun 12, 2020