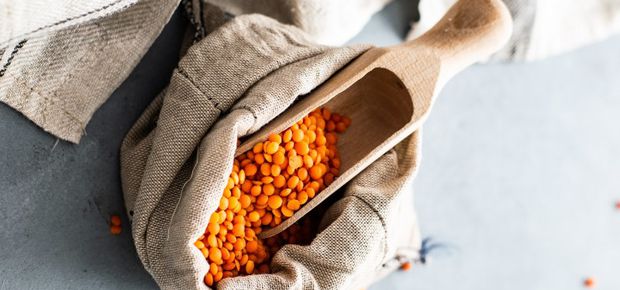 Lentil, what is it?
Lentil is an edible legume known for its lens-shaped seeds that grow in pods, usually with two seeds in each. They are a very popular ingredient in Indian cuisines, especially split lentils more commonly known as dal. It is also a dietary staple for many people in India and is usually paired with rice or rotis. Most lentils are produced in Canada, India and Turkey.
Health benefits of lentils
Lentils, aside from being a delicious dietary staple, also contains a lot of nutrients making it a health part of anyone's diet. Among the health benefits of eating lentils are:
They are high in polyphenols, which are active compounds that fight against harmful agents in the body including ultraviolet rays and radiation, as well as heart disease and cancer.They are also perfect for cardiovascular health and diabetes prevention.
They contain a lot of proteins, which is perfect for vegans. Just one cup of cooked lentils contains 18 grams of protein, which is equivalent to eating a whole can of chickpeas.
They are a good source of iron, which is very important for keeping oxygen pumping throughout the body that helps in health blood flow. A cup of lentils contains 6.6 milligrams of iron, one-third of the recommended daily allowance.
they are full of fiber that is important to digestive health and healthy weight maintenance. One cup of lentils has 15.6 grams of it, which is actually almost four times as much as a cup of raw kale.
They are a good source of calcium, which makes them good for your bones. It 38 grams of calcium per cup.
They are high in folic acid, which is an important nutrient to load up on all the time, but specially important for pregnant women. Insufficient amount of folic acid can lead to serious birth defects. It also supports healthy hair growth and can lower the risk of heart disease and stroke.
They are high in magnesium, which helps a lot if you have trouble sleeping, are stressed or overworked. A cup of cooked lentils contain 71 mg of magnesium.
Curried lentil pies with crispy potato top
This pie is infused with protein-rich lentils, sweet juicy currants and curry powder for extra flavour.
Ingredients
1/2 brown onion
1 carrot
1 clove garlic
1 cube vegetable stock
1 tin brown lentils
2 tbs currants
300 g potatoes
1/2 bag mixed salad leaves
2 tbs slivered almonds
2 tsp mild curry powder
2 tsp butter
1 cup boiling water
1 tbs olive oil
Method
Preheat the oven to 200°C/180°C fan-forced. To prepare your ingredients, finely chop the brown onion, peel and grate the carrot, peel and crush the garlic, crumble the vegetable stock powder, drain and rinse the lentils, very thinly slice the potatoes, melt the butter and wash the salad leaves.
Heat a medium frying pan over a medium heat. Add the slivered almonds and cook, stirring, for 1 minute or until toasted and golden, making sure you keep stirring to make sure they don?t burn. Remove from the pan and set aside.
Heat the olive oil in the same frying pan over a medium-high heat and add the brown onion, carrot and cook, stirring, for 5 minutes or until soft. Add the garlic and mild curry powder and continue to cook, stirring, for 1 minute or until fragrant. Dissolve the vegetable stock in the boiling water and add to the pan with the lentils, slivered almonds and currants. Simmer for 10 minutes or until thickened slightly.
Transfer the lentil mixture into a small baking dish or individual ovenproof ramekins and cover with a layer of the potato slices. Brush the potato with the melted butter. Cook in the oven for 25 minutes or until the top is golden. Remove from the oven and rest for 5 minutes.
Serve with a side of salad.
For more healthy and delicious recipes, go here.
Do you have a natural health & wellness business?
Sign up now and advertise on Australia's #1 natural health website.
Or visit our Wellness Hub to help you stay current about the industry.