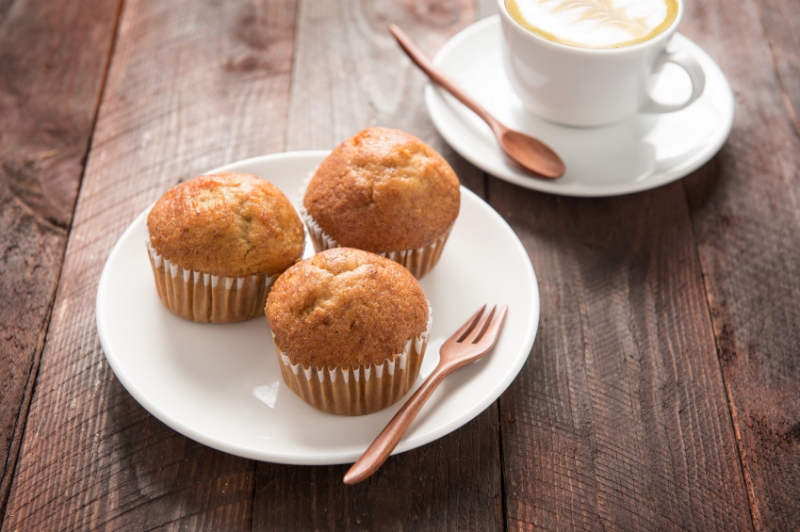 SNACK, DESSERT, WHEAT-FREE, GLUTEN-FREE, SUGAR-FREE, DAIRY-FREE, HIGH PROTEIN, PALEO
Sumptuous and totally guilt-free, these cupcakes are the perfect healthy treat. Packed with protein, they are sure to satisfy and go the distance without messing up our blood sugar levels. Spread a little ricotta and good quality jam (no added sugar) and voilà! 'Scones'!
These cupcakes freeze well.

Ingredients (10-12 cupcakes)
2 cups raw almonds
¼ teaspoon aluminium-free baking soda
½ teaspoon aluminium baking powder
1 tablespoon arrowroot flour
3 organic eggs
3 small-medium ripe bananas, mashed
3 tablespoons melted coconut oil
3 tablespoons full fat coconut milk
Method
Preheat oven to 180ºC.
Line a 12-hole muffin tin with paper muffin cases.
Place the almonds in a food processor and process to a coarse meal.
Place the ground almonds, baking soda, baking powder and arrowroot flour into a mixing bowl and stir to combine.
Using an electric mixer or handheld blender, whisk the eggs until light and fluffy, about one minute.
In a separate bowl mash the bananas and then pour in the eggs, coconut oil, and coconut milk. Stir to combine. Pour this mixture onto the dry ingredients and stir to combine.
Spoon the batter into the prepared muffin cases (about three quarters full) and bake for 20-25 minutes or until browned on top.
Transfer the cupcakes onto a wire rack to cool and set.
.
Variations

Instead of coconut oil you could use cold pressed extra virgin olive oil or macadamia oil.