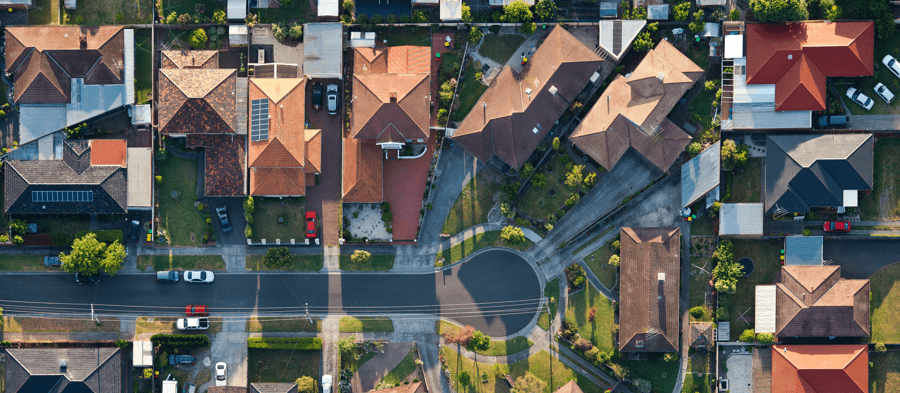 Because of the government's COVID-19 protective measures, everyone has plenty of time to spend at home. However, not everyone knows exactly what to do with it.
Finding something new to do every day is key to maintaining your zest for life despite everything that's happening at the moment. In fact, we thought of involving you in a kitchen activity wherein you get to use the usual items in your pantry to whip up the healthy recipes that we've laid out.
So, if you're ready, get your pans and aprons out and let's start cooking!
Pasta with Chickpeas and Tomatoes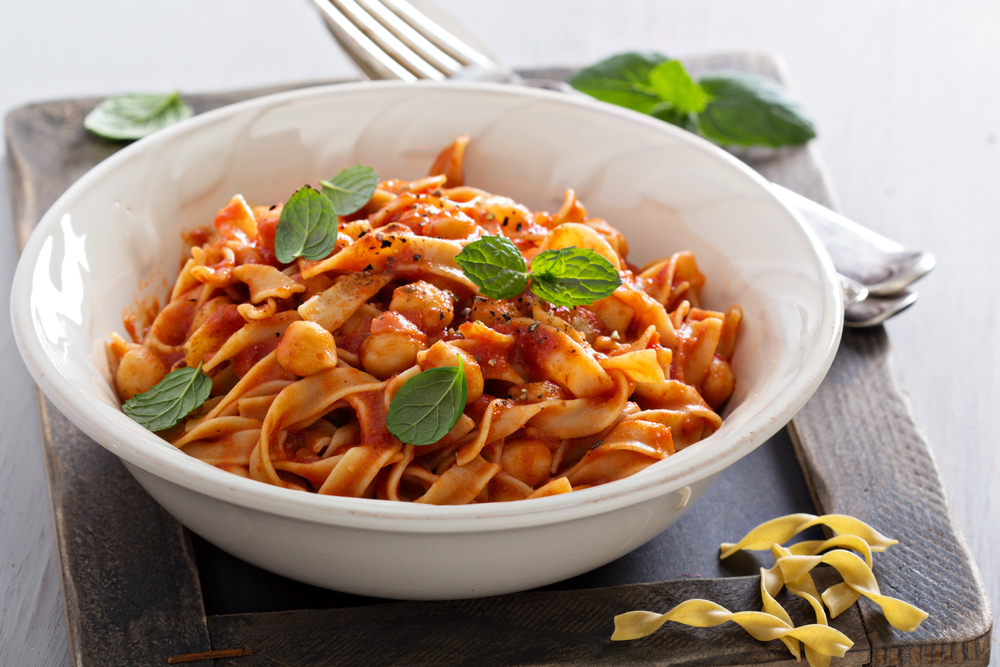 Any pasta dish is a comfort food, not to mention so easy to prepare. Mix some chickpeas and fresh tomatoes with your favourite type of pasta — linguine, fettuccine, penne, macaroni, etc. — and, voila, you have a healthy dish packed with fiber, manganese, selenium, antioxidants and vitamins B, C and K.
Ingredients
2 cans chickpeas, drained and rinsed
500 grams pasta
2 pounds fresh tomatoes, diced, or 1 can crushed tomatoes
1 tablespoon olive oil
1 teaspoon crushed red pepper flakes
1 teaspoon mustard seeds
2 garlic cloves, minced
1 onion, finely chopped
Salt and pepper
Parmesan, grated
Fresh basil leaves for garnish]
Instructions
Heat oil in a saucepan over medium flame. Add the chickpeas, red pepper flakes, mustard seeds, onion, garlic and a pinch of salt then stir until the chickpeas have turned brown.
Remove the chickpeas from the pan then add in the tomatoes and pepper. Let it simmer over medium heat and stir occasionally for 10 minutes or until the sauce thickens.
In a separate pot, boil salted water then cook pasta until al dente. Drain pasta then add it to the pan of tomato sauce.
Toss and serve with Parmesan and fresh basil leaves.
Coconut Curry Vegetable Soup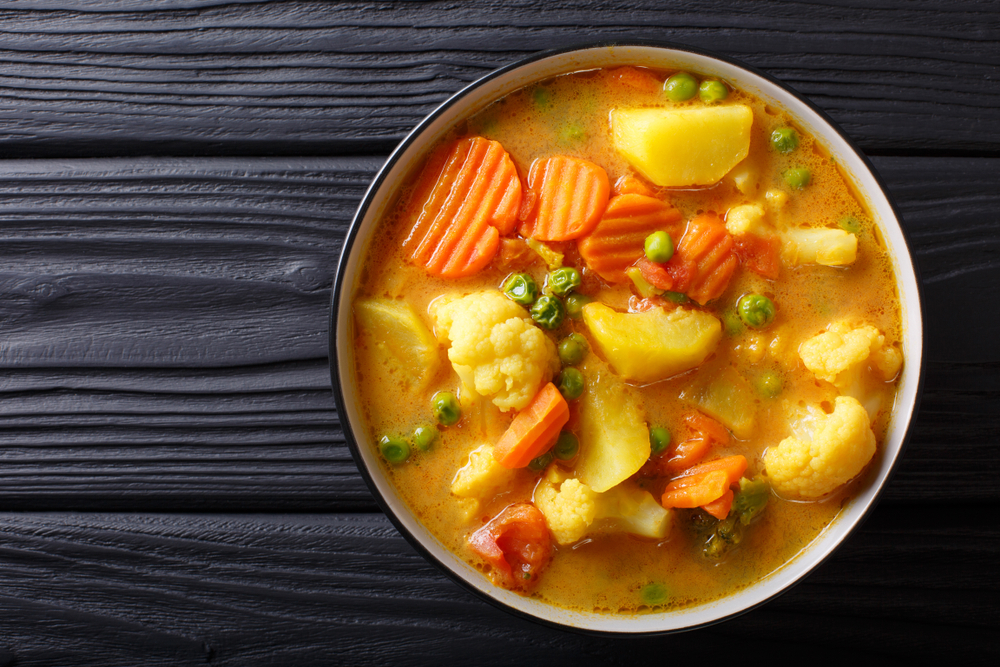 Here's a recipe that every vegetable lover will surely enjoy because it tastes as good as it looks. Aside from being delicious, it's rich in calcium, protein, phosphorus, iron magnesium, antioxidants, vitamins A, B and C, and a host of other vitamins and minerals that will keep your health in tip-top condition.
Ingredients
1 tablespoon coconut oil
1 onion, finely chopped
2 garlic cloves, minced
2 red chilis
Salt and pepper
1 small ginger, finely chopped
1 butternut squash, peeled and chopped
2 cauliflower florets
3 cups fresh spinach
Coconut milk
1 tablespoon lemon or lime juice
1 cup green peas
Instructions
Heat oil in a pot over medium flame then add onion and cook until soft and translucent.
Add the butternut squash and chilis to the pot then stir for 5 minutes before adding in the cauliflower, coconut milk, garlic and ginger. Cover and let simmer for 15 minutes or until the vegetables are cooked.
Add the lemon or lime juice, spinach, green peas and then stir.
Season with salt and pepper then serve with quinoa, rice or bread.
Baked Jackfruit Taquitos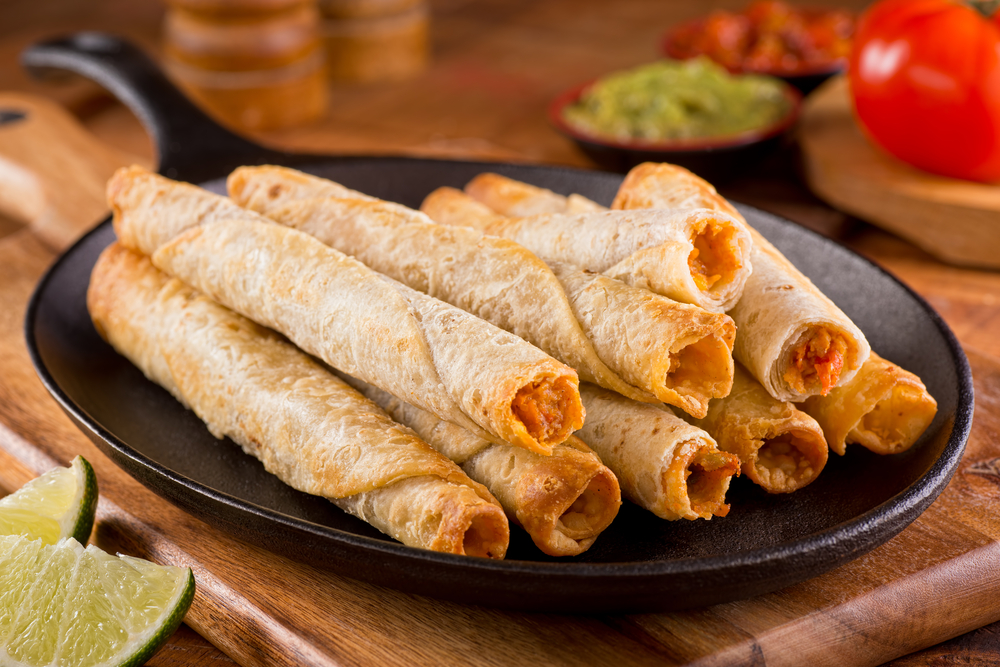 Although a seasonal fruit, jackfruit can be purchased in cans. If you happen to have one in your pantry, you'll definitely want to use it for this delectable dish. The tropical fruit is rich in fiber and packed with a whole range of vitamins and minerals, including manganese, potassium, magnesium and several antioxidants. What makes this dish extra special is that it isn't deep-fried unlike its traditional counterpart.
Ingredients
1 can jackfruit, shredded
1 teaspoon olive oil
2 garlic cloves, minced
1 teaspoon cumin
1 tablespoon chili powder
1 teaspoon oregano
Salt and pepper
1 can green chilis, diced and drained
1 cup refried beans
¼ cup scallions, chopped
½ cup cheese, grated
Instructions
Preheat the oven to 400°F then line the baking pan with parchment paper.
Put the jackfruit in the pan along with the olive oil, garlic, cumin, chili powder, oregano powder, salt and pepper.
Mix the green chilis into the pan then bake for 15 minutes or until the jackfruit has turned golden brown. Once it's done, remove it from the pan then line the baking pan with a fresh sheet of parchment paper.
Slightly heat the tortillas until they're easy to roll then spread a small amount of refried beans on the left side of each tortilla. Add in the jackfruit mixture, cheese and scallions.
Gently but tightly roll the tortillas then put them in the baking pan. Bake for 20 minutes or until golden brown and crisp on the edges.
Serve with your favourite toppings.
Which of these healthy recipes did you enjoy doing the most? Feel free to share any recipes that can be made using simple items that are available in your pantry.
Do you have a natural health & wellness business?
Sign up now and advertise on Australia's #1 natural health website.
Or visit our Wellness Hub to help you stay current about the industry.
Originally published on May 04, 2020