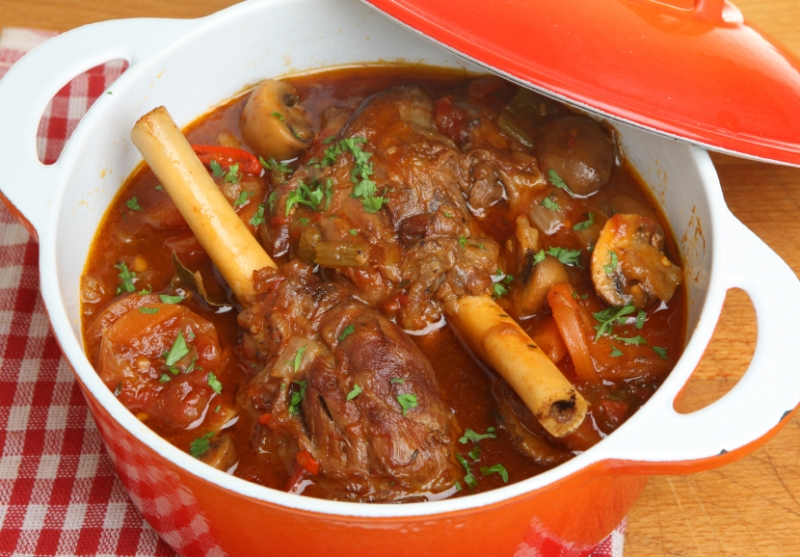 Beautiful veggies and gorgeous pearl barley give this stew heartiness while the slow cooked lamb gives that classic melt-in-the-mouth tenderness.
Remember to soak the barley for 8 hours prior to cooking as this will aid its digestion and also increase the bioavailability of its nutrients. If you like, you could also add one tin of chopped tomatoes when adding the stock.
Ingredients
3 tablespoons olive oil or ghee
2 medium or 3 small lamb shanks
1 carrot, diced
1 onion, diced
2 celery sticks, chopped
1/4 Jap pumpkin, diced
2 potatoes, peeled and diced
2 small rosemary stems, leaves removed
1 cup pearl barley, rinsed, soaked overnight (or for 8-12 hours)
Approx. 1 L vegetable/chicken/beef stock
Salt & pepper to taste
1 cup frozen peas, defrosted
Method
Heat two tablespoons of olive oil/ghee in a large soup pot on medium heat. Place the shanks in the pot and allow them to brown (about 5 minutes, turning every now and then with tongs to ensure even cooking).
Remove the shanks from the pot, place on a plate and set aside.
In the same pot, add a further tablespoon of oil /ghee and sauté the carrot, onion and celery for a few minutes. Add the pumpkin, potatoes, rosemary leaves and sauté for another minute. Add the shanks, pearl barley, stock (enough to cover the contents), salt and pepper. Bring to a gentle boil, then reduce to very low heat, cover the pot and allow to slow cook for 2-2.5 hours, stirring occasionally and ensuring adequate stock (keeping in mind that the pumpkin will collapse and thicken the stew).
Turn off the heat. Remove the shanks with tongs and set aside on a plate to cool down.
Once cooled, break away the meat from the bone into chunks using your fingers or a fork. Return the meat to the pot. Add the peas and serve.
This recipe serves 6 and will still fair well as a leftover. Just heat and enjoy the next day.
Do you have a natural health & wellness business?
Sign up now and advertise on Australia's #1 natural health website.
Or visit our Wellness Hub to help you stay current about the industry.
Originally published on Apr 29, 2020