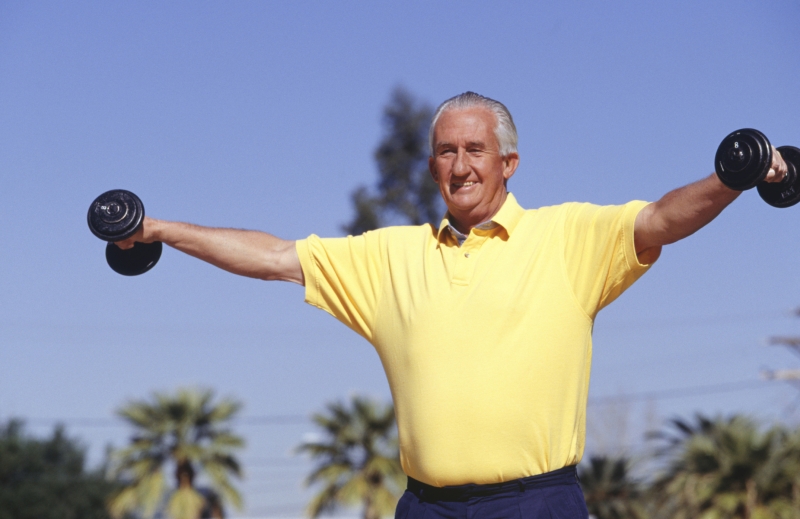 We've all probably watched an elderly person shuffle across the road and thought that's how we'll end up. It's a natural part of aging right? Wrong. Shuffling, imbalance and loss of strength is caused by age-related muscle loss known as sarcopenia. And sarcopenia is avoidable and even reversible.
Sarcopenia is Osteoporosis' Second Cousin
Everyone knows about osteoporosis and the importance of maintaining bone density. But perhaps few of us have heard of sarcopenia, which robs us of muscle function as we age. Muscle mass – the amount of muscle in the body - begins to decline in our 40s. By the time we're 80, 43% of women and more than half the male population have sarcopenia. They've lost the muscle power to hop on a bus, cross a road quickly or even get up from a chair. But sarcopenia isn't inevitable. There are simple ways to maintain muscles – and our independence as we age.
Weighting for Sarcopenia
The best way to combat sarcopenia is to lift weights. Hydraulic gym equipment, free weights, elastic bands, resistance partnering, or household objects like milk containers filled with sand all work. You should target the major muscle groups – legs, hip and knee flexors as well as arms – and lift or push quickly and lower back down slowly. Start with light weights. After a few months increase the amount to challenge your muscles, build more strength and keep sarcopenia at bay. At home, you can lift bags of rice, do squats, climb stairs, rise up on the toes and practice getting out of a chair.
Protein Prevents Sarcopenia
Another key player in maintaining muscle mass is protein. So make sure your diet includes lots of these protein-rich foods:
Meat
Eggs
Dairy products
Legumes
Nuts
Tofu
Never Too Late to Fight Sarcopenia
If you want to stave off sarcopenia you should start resistance training in middle age. However, it's never too late. People in their 90s have shown improved muscle mass, balance and the ability to perform everyday tasks after regular weight training.

So don't wait for sarcopenia to creep up on you. Pick up the weights now. The adage 'if you don't use it, you lose it' could never be more apt.
Originally published on Feb 22, 2011