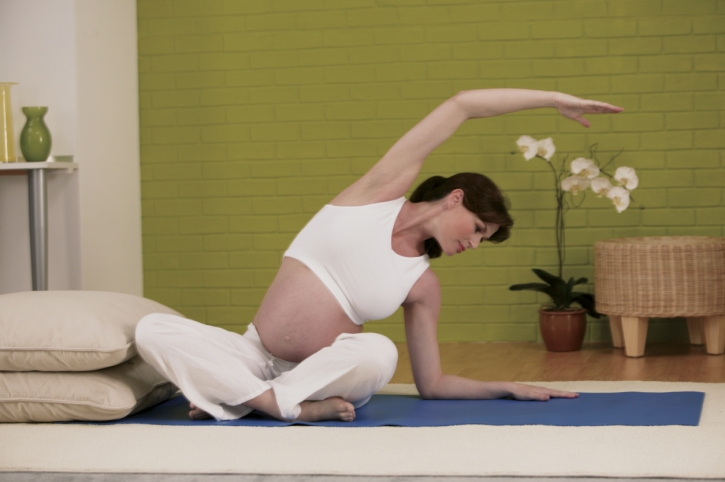 When you're trying to conceive a baby, you need your body and mind to be in the best shape possible. Whether you want to increase or maintain your health and wellbeing for this most important of times, yoga can be a great aid and companion.
Stress and Fertility
One of the greatest obstacles to fertility according to doctors is stress, which has been shown to reduce the probability of conception. Everyone has heard stories about couples who had tried for years to conceive and after "giving up" or adopting, have fallen pregnant. What yoga offers above all is relaxation, with research showing that participating in a "mind-body" type of program – which is exactly what yoga is - can positively affect fertility.
The classical definition of yoga is that it "stills the fluctuations of the mind" – when our minds are busy worrying about what might have been or what could be in the future, we lose touch with the present moment, with the body, the breath and the self. Yoga is very effective in pulling you back to the now.
For women struggling with infertility, the stress can be overwhelming. Yoga also teaches that suffering is caused by attachment to outcomes, and this is never more true than when trying unsuccessfully to fall pregnant, or through the slog of IVF treatment.
Yoga for fertility programs principally concentrate on the stress-relieving and relaxing effects of a practice, so a "restorative" type of practice is usually followed. Restorative practices usually involve using props such as bolsters, blankets, belts and chairs to support some well-known poses so that the body and mind are free to completely relax.
Yoga Poses for the Reproductive System
But renowned yoga teacher Geeta Iyengar, daughter of BKS Iyengar, also advocates a number of poses that have beneficial effects on the reproductive system.
Her recommendations include poses that stimulate the thyroid such as sarvangasana (shoulderstand). Dysfunction of the thyroid gland can upset the balance of the body's reproductive hormones.
Sarvangasana, sometimes called the "queen of all asanas" (headstand is the king) is believed to directly affect the thyroid, due to the firm chin lock (also known as jalandhara bandha) which increases blood supply. The pose is also thought to develop "the feminine qualities of patience and emotional stability" according to Ms Iyengar.
Other poses with similar, chin-locking effects and which are suitable for beginners are setu bandha (bridge pose) and janu sirsasana (head-to-knee pose).
Poses that bring increased circulation to the pelvic region and reproductive organs are also recommended. Try baddha konasana (bound angle pose) and supta baddha konasana for similar benefits but with the added bonus of being supremely relaxing.
Supported supta virasana (reclining hero pose) also opens the pelvic region and ensures circulation.
While no type of practice can guarantee you will fall pregnant, it can certainly have a positive impact on your mental and physical health.
Note that you should always consult your doctor before starting any exercise regime, especially if you have not done a yoga class before, and get the guidance of an experienced yoga teacher if you are a beginner of are unfamiliar with any poses mentioned here.
Find yoga classes in your area.
Do you have a passion for Yoga? Would you love to turn your passion for Yoga into a rewarding career?
Check out the information we have available on what the Yoga course involves and thousands of other Natural Therapy Courses we have available online and throughout Australia. Why not let us help you find the right course for you today on 1300 924 960