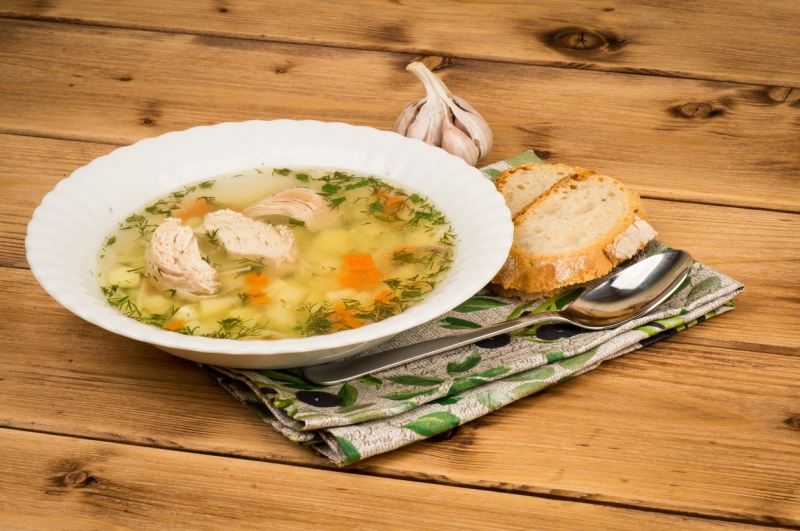 The chicken soup recipe is known among most cultures as a remedy for fighting a head cold and to boost the immune system. In the Jewish culture it is compellingly known as "Jewish penicillin". So pervasive is this belief, scientists have actually taken it to the lab for testing.
Dr Stephen Rennard (a pulmonary expert from Nebraska) undertook a study into the health benefits of chicken soup and concluded it was a combination of the anti-inflammatory properties of many of chicken soup's ingredients that reduced congestion and eased the symptoms of a cold.
Dr Rennard concluded "A variety of soup preparations were evaluated and found to be variably, but generally, able to inhibit neutrophils. Many store-bought, prepared and even canned soups, had the same inhibitory effect."
"Though researchers were not able to identify the exact ingredient or ingredients in the soup that made it effective against fighting colds, they theorize it may be a combination of ingredients in the soup that work together to have beneficial effects."
"Dr. Rennard said the soup also may improve rehydration and nutrition in the body and the psychological and physical comfort soup provides may also have benefit."
Ingredients
2 brown onions
6 carrots, chopped
6 sticks of celery, chopped
2 fresh bay leaves
4 whole peppercorns
1 whole organic chicken
1 tablespoon unsalted butter
4 shallots
Olive oil
3 sprigs fresh parsley
200 g baby spinach
2 handfuls of seasonal greens such as kale
1 lemon
Method
To make the stock, place the onions, 2 of the carrots and 2 of the celery in a large pan with the bay leaves, peppercorns, a pinch of sea salt together with the whole chicken.
Fill the pan with cold water until everything is covered and bring to the boil. Reduce to a simmer and cook for 1 hour. It is important to remove the scum that will surface to the top now and then.
In the meantime, place garlic, parsley (picking off some of the leaves for later) and shallots in a pan with the butter and 1 tablespoon of oil and cook for 5-10 minutes or until soft. Add the the rest of the carrots and celery and cook for a further 5 minutes.
When the stock is ready, remove the chicken carcass, pull off any remaining pieces of meat and leave to one side, then discard the carcass.
Add your greens and cook for a further 10 minutes.
Finish the soup by squeezing in the lemon juice, then taste and season.
Do you have a natural health & wellness business?
Sign up now and advertise on Australia's #1 natural health website.
Or visit our Wellness Hub to help you stay current about the industry.
Originally published on Apr 27, 2020