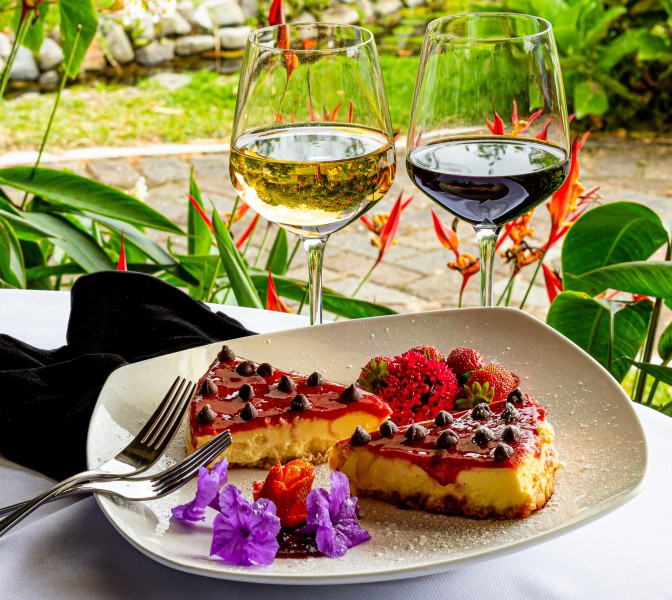 It's that time of year again when radio airwaves carry classic love songs and singing mailmen are once again highly in demand.
However, if you find that strategy too corny but still want to say 'I love you' in a unique way, why not treat your special someone to a sumptuous dinner which you prepared yourself?
We list below three sets of menus you can whip up on Valentine's Day in a flash. You can work on them according to our order of arrangement or mix and match the items. The choice is yours! Each of these only takes less than 30 minutes to prepare.
The 'Romantic diva' set menu
Appetizer
Spinach & Creamy Goat Cheese Stuffed Mushrooms
Start the evening light with this dish as it allows you to focus on your date while loading up on the health benefits of spinach and mushroom. Spinach is rich in vitamins K, C and A while mushroom is an immune system booster. This will surely prepare you for a long night.
Ingredients
1/2 cup of frozen chopped spinach, thawed and drained well
3 tablespoons sun-dried tomatoes, diced
6 oz. goat cheese, softened
1 teaspoon dry basil
1/4 teaspoon garlic powder
12 baby portabella mushrooms
Instructions
Preheat oven to 400º.
In a large bowl, combine the thawed and drained spinach, diced sun-dried tomatoes, dry basil, garlic powder, and softened goat cheese then mix together with a hand mixer. Set aside.
Remove stems from portabella mushrooms then place them on a baking sheet, cap side down.
Stuff each mushroom with the spinach goat cheese mixture then place back on the baking sheet.
Put in the oven and bake for 20 minutes until golden brown.
Remove from the oven and let cool down for 5 minutes before serving.
Main
Salmon in Sun-Dried Tomato Cream Sauce
You can never go wrong with fish, especially Salmon. It's delicious, easy to prepare and healthy. Salmon is rich in Omega-3 fatty acids, supplies protein, and lowers your risk of cardiovascular diseases. Add in some fiber-rich sun-dried tomatoes and your choice of cream to get that beautifully thick, creamy sauce. This yummy dish can be paired up with your choice of grain or pasta.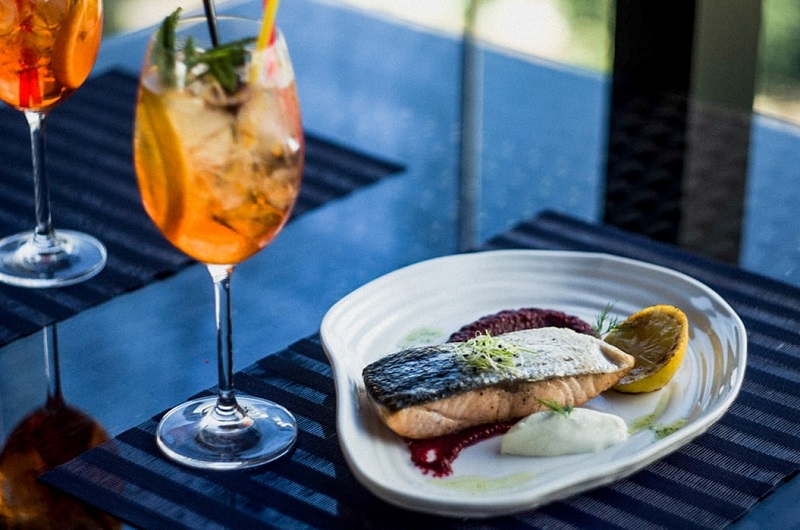 Ingredients
4 salmon fillets, skin removed
salt and pepper to taste
2 tablespoons butter
2 tablespoons honey
3 teaspoons minced garlic
2 teaspoons Italian seasoning blend or combination or dried thyme, basil, oregano and parsley
1/2 cup julienned sun dried tomatoes
1 cup chicken broth
1/2 cup of heavy cream
2/3 cup Parmesan
grated Parmesan cheese, fresh herbs, cracked black pepper for topping optional
Instructions
Season salmon with salt and pepper.
Melt butter in a large skillet over medium heat then stir in honey.
Add salmon and cook for 6 minutes or until each side is caramelized.
Transfer to a plate and keep it warm.
Add garlic, Italian seasoning, sun dried tomatoes, chicken broth, heavy cream, and 2/3 cup Parmesan cheese to pan and stir to combine.
Bring to a boil, and continue to stir periodically for about 5-7 minutes or until cream has thickened.
Return salmon to the pan and spoon the sauce over it.
Top with cracked black pepper, grated parmesan cheese, fresh herbs if desired, and serve.
Dessert
No-Bake Strawberry Cheesecake
Because time is of the essence, this easy dish is perfect to cap off your meal. Just combine cream cheese and whipped cream and then refrigerate for three to four hours. Top it with fresh strawberries then serve with a sweet smile.
Ingredients
4 ounces cream cheese, softened
1/4 cup heavy whipping cream
1/2 cup powdered sugar
1/2 teaspoon vanilla extract
fresh strawberries, for serving
Instructions
In a small bowl, beat the cream cheese with an electric mixer on high speed for about 30 seconds or until it's soft and creamy.
In another small bowl, beat the whipping cream until soft peaks form. Beat in the powdered sugar and vanilla.
Add half of the whipped cream to the cream cheese, and beat on medium speed until combined. Repeat with the remaining half.
Divide the cheesecake between two ramekins.
Cover and refrigerate for at least 4 hours.
Serve with fresh berries.
There goes our first of three sets of dinner menu to impress your date on Valentine's Day. Good luck and be sure to put your heart into every dish.
Do you have a natural health & wellness business?
Sign up now and advertise on Australia's #1 natural health website.
Or visit our Wellness Hub to help you stay current about the industry.
Originally published on Feb 08, 2020