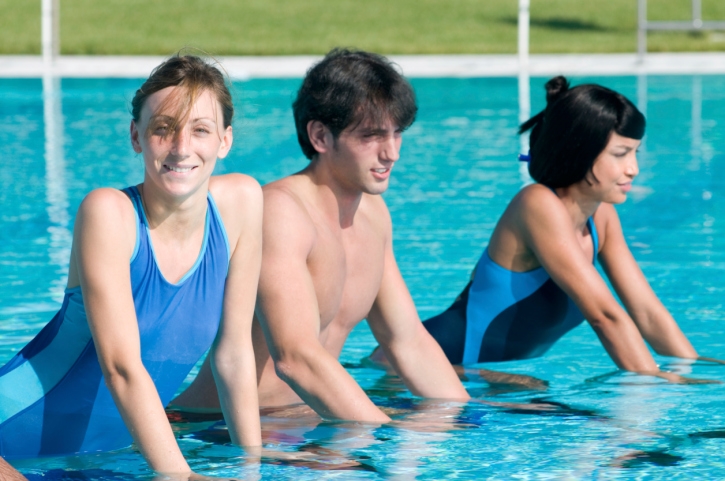 If you are looking for a form of exercise that is fun, challenging, and puts absolutely no strain on your back or joints, why not consider Water Pilates? It may not be something that you've heard of before but you'd be surprised at just how effective it can be! Read on for more information.
What is Water Pilates?
Water Pilates is a form of exercise that can be performed in a swimming pool. As well as Water Pilates, it can also be known as Aqua Pilates or Poolates. The basic idea is that the benefits of exercising in the water are combined with the benefits of Pilates so that you can exercise very effectively in a gentle environment. Water Pilates allows you to develop your core strength, muscle tone, flexibility, balance and posture. It does not involve jumping or gyrating in the water. Rather, it is about controlled movements that come from the body's powerhouse or core muscles (the pelvic floor, abdominals etc). The movements are done in the water using different positions such as standing, floating, sitting, and so on. Water Pilates is actually more challenging than standard Pilates in some ways as it can be difficult to move your limbs in a controlled, precise manner when the water is constantly moving. It is also safer however, as you do not have the stress of getting up and down to use mats or equipment and if you should fall, the water will absorb the impact, reducing the risk of injuries.
Benefits of Water Pilates
Water Pilates can benefit just about anyone, whether it is someone looking to improve their fitness, recover from an injury, or to prevent an injury. Because it is a non-impact exercise, it can also be very beneficial for people who suffer from problems such as arthritis, weight issues, osteoporosis and other conditions that can limit traditional exercises. Water Pilates is also a flexible therapy, and you can adjust it to suit your abilities and needs. For example, you can use floatation devices in order to help keep the upper body stable and you can control how far and how fast the movements are done. Water Pilates is available as individual lessons or group classes, allowing you to choose the one that you are most comfortable with. It is best to do the exercises in warmer water as your muscles will respond better but if this is not possible, then you should wear a shirt that will cover your upper body when it is out of the water.
Find pilates instructors near your area.
Do you have a passion for Pilates? Would you love to turn your passion for Pilates into a rewarding career?
Check out the information we have available on what the Pilates course involves and thousands of other Natural Therapy Courses we have available online and throughout Australia. Why not let us help you find the right course for you today on 1300 924 960
Originally published on Jul 07, 2010