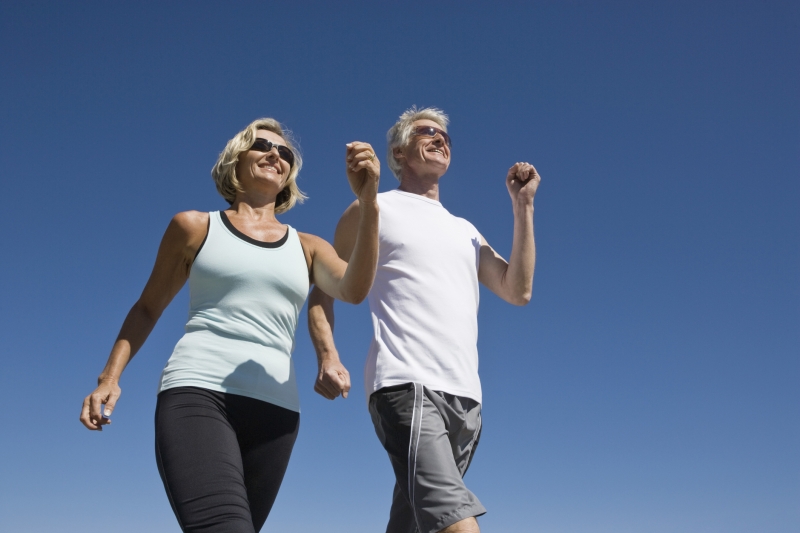 When we think of getting fit, we almost automatically associate it with vigorous activities. Sports, going to the gym, attending yoga or pilates classes or some other activity that requires a certain level of fitness to begin with or that involves a complicated learning curve come immediately to mind. In the meantime, one of the best fitness exercises of them all is one that comes naturally to all of us: walking.

With obesity and heart disease rising to epidemic levels, it's important for all of us to find ways to prevent these and other modern diseases from occurring. A change to a healthy diet will certainly help, but combining that with a daily walking routine will help even more. Just some of the benefits of walking include:
Reducing the risk of heart disease by 30 to 40 percent.
Reducing the risk of stroke by up to 50 percent.
Losing weight and increasing lean muscle mass.
Improving good cholesterol levels while reducing bad cholesterol levels.
Reducing the pain and inflammation of arthritis.
How to Get Started Walking
Unlike other exercise programs, all that's really needed to get started on a regular walking program is to simply start walking. One way to do this is to walk to work and back. If this is not possible, you can get off the bus or train or park your car further from your place of work and walk from there. Another possibility is to replace that heavy lunch with a lighter lunch and a short walk.

Once you start walking, you'll quickly notice the difference. You'll feel lighter, brighter and more cheerful. You'll probably find yourself sleeping better at night, too. This will motivate you to walk even more and you can begin a regular walking regimen. To get the most out of walking, fitness experts recommend half an hour per day of uninterrupted vigorous walking. By "vigorous," they don't mean huffing, puffing and sweating profusely. You just want to walk fast enough to elevate your metabolism and burn more kilojoules than you consume. As a rule of thumb, if you are walking hard enough to still be able to carry on a conversation but not sing, that is enough.
Walking: The Best Way to Lose Weight
Extreme diets and exercise programs are one way to lose weight fast, but they can backfire on you. Your body stores fat in order to have energy reserves for heavy activity. When it burns fat fast, it gets the message that it needs to replace the fat just as quickly. Low intensity exercise, like walking, burns carbohydrates first, telling the body to replace carbohydrates instead of fat.

As you continue with your walking program, your body will gradually adapt and you'll need to walk with great intensity in order to get the same benefits. Climbing stairs or hills, walking with weights, taking longer walks or stepping up the pace are all ways to do this. All the while, you will be getting stronger and healthier than ever before, without feeling like you're on a strenuous weight loss program.

When walking:
Start off at a leisurely pace and pick up the pace gradually.
Cool down by slowing the pace towards the end of your walk.
Set realistic goals for yourself based on your current level of fitness rather than an athlete's fitness level.
Wear comfortable, arch supporting and shock absorbing shoes and walk on a soft surface like grass whenever possible.
Watch your stride: your heels should touch the ground first, followed by the rest of your foot in a rolling motion.
Drink plenty of water before and after your walk.

Other than that, there is little technique involved in walking other than to enjoy its many benefits.
Originally published on Apr 20, 2012