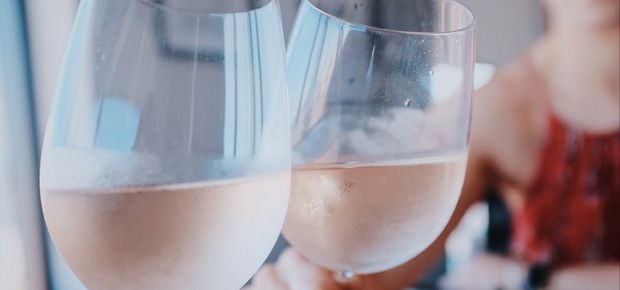 It's that time of year again when radio airwaves carry classic love songs and singing mailmen are once again highly in demand.
However, if you find that strategy too corny but still want to say 'I love you' in a unique way, why not treat your special someone to a sumptuous dinner which you prepared yourself?
We list below three sets of menus you can whip up on Valentine's Day in a flash. You can work on them according to our order of arrangement or mix and match the items. The choice is yours! Each of these only takes less than 30 minutes to prepare.
'Lounging in love' Set Menu
Appetizer
Shrimp and Cucumber Canapes
Cucumbers and shrimps not only make a refreshing appetizer on a summer date, but also provide a plethora of benefits. Both are packed with antioxidants and different types of vitamins and minerals. In addition, shrimps supply the body with protein and anti-aging properties. To top it all, they're so easy to prepare and eat that you don't even have to take your eyes off your date.
Ingredients
1/2 cup ketchup
4 teaspoons Creole seasoning, divided
1 tablespoon finely chopped onion
1 tablespoon finely chopped green pepper
1 tablespoon finely chopped celery
1/4 teaspoon hot pepper sauce
1 package (8 ounces) cream cheese, softened
24 English cucumber slices
24 peeled and deveined cooked medium shrimp
2 tablespoons minced fresh parsley
Instructions
Combine the ketchup, Creole seasoning, onion, green pepper, celery and pepper sauce in a bowl.
In another bowl, combine cream cheese and remaining Creole seasoning.
Spread or pipe cream cheese mixture onto cucumber slices then top each with a shrimp and cocktail sauce
Sprinkle with parsley
Main Dish
Pan-Fried Lemon Chicken With Broccoli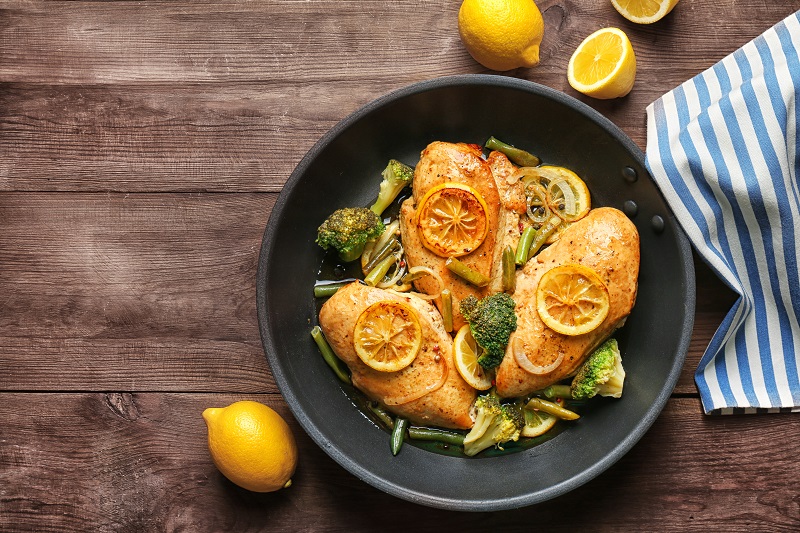 Chicken is the choice of meat for any occasion. Its cooking complexity is zero because it can be fried, roasted, grilled, sauteed, or even tossed into salads and turn out delicious. For this dish, you want to use chicken breasts as these are rich in protein with lesser fat. Sear them in butter, add in lemon juice and broccoli for that much-needed vitamin C and fiber, and then cook in the oven for 10 minutes. Scrumptious, nutritious, and easy-peasy!
Ingredients
1/2 lb broccoli, cut into florets
2 cloves garlic, thinly sliced
3 tablespoons olive oil, divided
Kosher salt
Pepper
4 (6-oz) boneless, skinless chicken breasts
1/4 cup all-purpose flour
1 lemon, cut into thin ½-in. Pieces
2 tablespoons lemon juice
Instructions
Heat oven to 425°F. On a rimmed baking sheet, toss broccoli and garlic with 1 tablespoon oil and ¼ tsp each salt and pepper, then roast for 10 minutes.
Meanwhile, pound chicken breasts to even thickness, season with ¼ tsp salt and pepper, then coat in flour.
Heat 1 Tbsp oil in a large skillet on medium-high and cook chicken for 3 to 5 min. per side or until golden brown.
Arrange chicken with broccoli and roast for about 6 minutes until chicken is cooked through and broccoli is golden brown and tender.
Return skillet to medium heat, add remaining oil, then toss in lemon pieces and cook; stir until brown.
Add lemon juice and ⅓ cup water and cook, stirring and scraping up any browned bits. Spoon over chicken and serve with broccoli.
Dessert
Roses and Chocolates
What's Valentine's Day without flowers and chocolates? This dessert offers the ultra-satisfying combination of white and dark chocolate bark. Top it with edible rose petals and a wonderful piquant flavor sets in.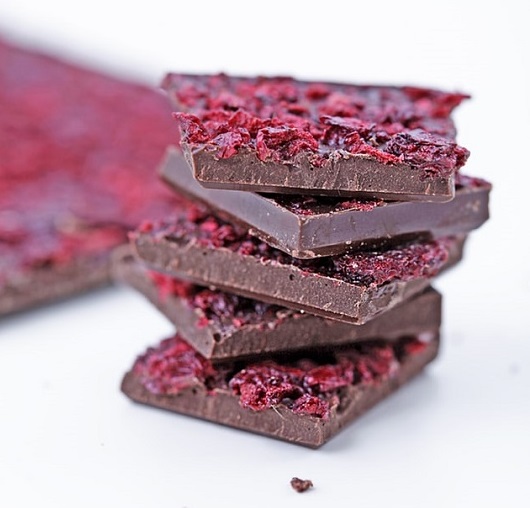 Ingredients
7 ounces chopped white chocolate (real white chocolate)
3 ounces chopped dark chocolate
1/4 teaspoon rose water
1 tablespoon dried edible rose petals
Instructions
Line a small sheet pan with parchment paper.
Place the white chocolate in a microwave-safe bowl and microwave on 50% power for 30 seconds.
Stir and repeat until the chocolate is almost all the way melted. Stir to melt thoroughly.
Spread the white chocolate onto the sheet pan in an 8 x 6" rectangle.
Melt the dark chocolate using the same method before the white chocolate hardens.
Once the dark chocolate is fully melted, quickly stir in the rose water.
Very quickly dot the dark chocolate on top of the white chocolate then sprinkle edible rose petals on top.
Refrigerate for 20 minutes to set the chocolate then break into pieces and serve.
There goes our second of three sets of dinner menu to impress your date on Valentine's Day. Good luck and be sure to put your heart into every dish.
(This is a 3-part series and part of NaturalTherapyPages.com.au's Valentine's special. This series will help you with what you can cook for Valentine's dinner for your special someone. This is part 2. You can check out Part 1 here.)
Do you have a natural health & wellness business?
Sign up now and advertise on Australia's #1 natural health website.
Or visit our Wellness Hub to help you stay current about the industry.