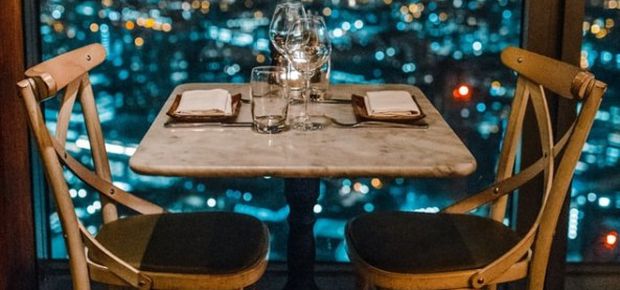 (This is a 3-part series and part of NaturalTherapyPages.com.au's Valentine's special. This series will help you with what you can cook for Valentine's dinner for your special someone. This is part 3. You can check out Part 1 here and Part 2 here.)
It's that time of year again when radio airwaves carry classic love songs and singing mailmen are once again highly in demand.
However, if you find that strategy too corny but still want to say 'I love you' in a unique way, why not treat your special someone to a sumptuous dinner which you prepared yourself?
We list below three sets of menus you can whip up on Valentine's Day in a flash. You can work on them according to our order of arrangement or mix and match the items. The choice is yours! Each of these only takes less than 30 minutes to prepare.
The 'Wink wink' set menu
Appetizer
Ricotta Bruschetta
The creaminess of ricotta combined with the crunchiness of bruschetta makes a delectable entree for your Valentine dinner. What's more, its layers of toppings consisting of olive oil, garlic, and tomato and basil sauce aren't only bursting with flavors, but also rich in vitamins and minerals that help improve your gut health, immune system, hair and skin.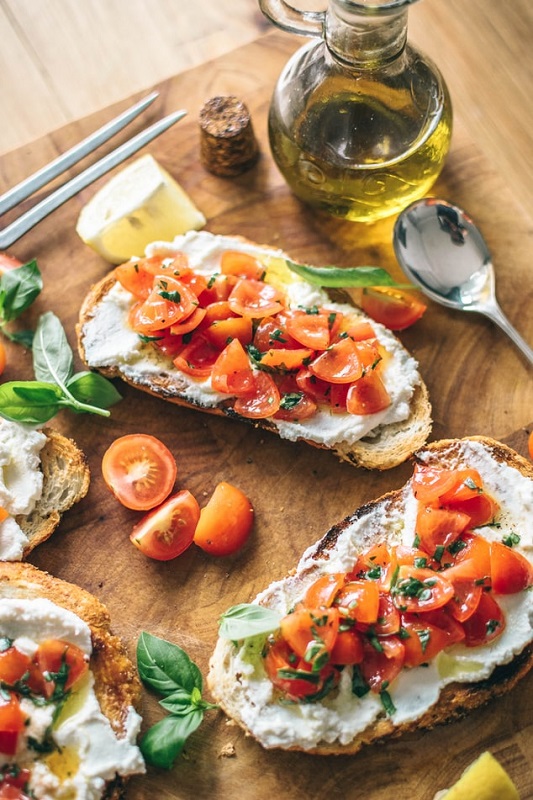 Ingredients
1 pint cherry tomatoes
1 cup ricotta cheese
1/4 cup finely chopped spinach leaves
2 tablespoons finely chopped basil leaves
1 tablespoon finely chopped chives
1 baguette French bread or any similar bread, cut in ½ inch thick slices (8-10 slices)
2-3 tablespoons olive oil
1-2 garlic cloves, peeled and left whole
Salt and pepper to taste
Instructions
Cut cherry tomatoes in half, season with salt and pepper then set aside.
In a small mixing bowl, combine ricotta cheese, spinach, basil and chives. Stir to combine thoroughly. Set aside.
Toast bread, in a toaster or under the broiler in the oven or on the grill, until golden brown. Rub toast vigorously with whole raw garlic clove. The rough surface of the bread helps shave the garlic clove. (approx. 2-3 strokes per slice of bread, add more or less to taste).
Then drizzle or brush the top side of toast with olive oil.
Assemble bruschetta by layering each piece of toast with ricotta mixture, and sliced tomatoes.
Sprinkle with salt and pepper and garnish with snipped chives and chopped basil.
Main Dish
Grilled Steak With Corn Salad
No one can resist a juicy steak paired up with a bowl of fresh herb salad. This dish will surely satisfy and impress your date, while loading both of you with antioxidants, lycopene, vitamins C, K and E from oregano, olives, cucumber, tomatoes, and corn kernels.
Ingredients
3 tablespoons extra-virgin olive oil
2 tablespoons red wine vinegar
2 tablespoons chopped fresh oregano and/or mint
1 teaspoon honey
Kosher salt and freshly ground pepper
1 English cucumber, peeled and chopped
1 pint grape or cherry tomatoes, halved
1 small red onion, diced
1/2 cup crumbled feta cheese (about 4 ounces)
1/3 cup pitted green olives, sliced
2 ears of corn, shucked
1 1/4 pounds cube steaks
Instructions
Preheat the grill to high.
Whisk the olive oil, vinegar, herbs, honey, 3/4 teaspoon salt and a few grinds of pepper in a medium bowl.
Put 2 tablespoons of the vinaigrette in a large bowl then set aside.
Add the cucumber, tomatoes, red onion, feta and olives to the bowl with the remaining vinaigrette. Toss to coat.
Grill the corn for about 8 minutes, turning occasionally until charred in spots
Meanwhile, season the steaks with salt and pepper then grill them in batches until the edges start browning, about 2 minutes.
Flip and cook until browned on the other side for about 30 seconds.
Transfer to the bowl with the reserved vinaigrette; toss to coat.
Dessert
Roasted Mangoes With Orange Peels
Though delicious even when eaten alone, mangoes can be tweaked in many ways for the sake of this special occasion. Top your halved mangoes with crystallized ginger, orange peel and brown sugar and then bake them until the toppings are golden brown. Enjoy while getting a generous fill of vitamins A and C and anti-inflammatory properties.
Ingredients
2 medium ripe mangoes, halved lengthwise and pitted
2 tablespoons brown sugar
2 tablespoons flaked coconut
2 teaspoons finely shredded orange peel
2 teaspoons finely chopped crystallized ginger
Instructions
Place mango halves in a 2-quart rectangular baking dish.
Combine brown sugar, coconut, orange peel, and crystallized ginger in a small mixing bowl.
Sprinkle the mixture over mango halves.
Bake in a 425-degree fahrenheit for about 10 minutes or until mangoes are hot and topping is golden brown.
Makes 4 servings
There goes the last of three sets of dinner menu to impress your date on Valentine's Day. Good luck and be sure to put your heart into every dish.
Do you have a natural health & wellness business?
Sign up now and advertise on Australia's #1 natural health website.
Or visit our Wellness Hub to help you stay current about the industry.