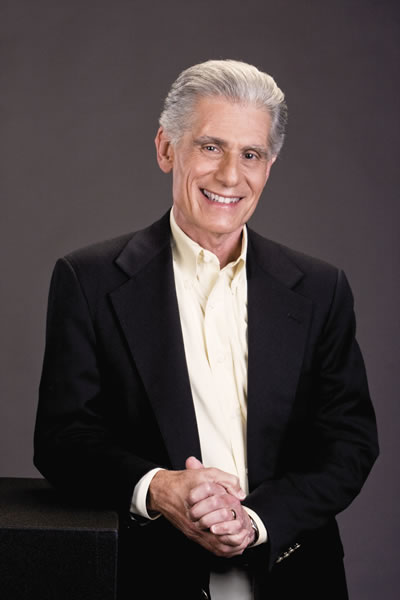 Natural Therapy Pages was lucky enough to catch up with psychiatrist and author Brian Weiss again, visiting these shores for another chapter in his Past Life Regression Therapy Workshops. Renowned for his championing of hypnosis, reincarnation and past life regression, he has written widely on these subjects, most recently in Miracles Happen. In a wide ranging interview he touched on a variety of points, including mindfulness and the interconnectedness of life on earth.
You have written about our connectedness, "There are no strangers – no one stands alone". Can you please expand on this and how you came to this realisation?
Many of my realisations are based upon my clinical work with patients as well as my own meditations. So many of my regression patients, while in a deep state of relaxation, have spoken of the interconnectedness of all things. They describe energetic links wherein a ripple effect in this sea of energy results from any action and affects everyone and everything. Furthermore, we are all interdependent; we are all an integral part of the whole. For this reason, we should nurture and support each other and protect the natural world.
Your daughter, Amy, is a co-author of Miracles Happen – what perspective does she bring to your work?
Amy is a psychotherapist and also a brilliant writer, and she brought so many skill sets to Miracles Happen. Without her efforts and insights, the book may have never been written. Her personal experiences are prominent in the book, and her empathy for animals and nature shaped the chapters.
Can you share with us how past-life experiences can help us to heal, not only emotionally but also physically.
I believe that regression therapy is very similar to psychoanalytic therapy except that the arena is expanded to include previous lifetimes. The remembering of past life events has the same healing capacity as remembering childhood traumas. Emotional and physical healing often result.
Your workshops include right-brain training – can you tell us a bit more about this and why this is a focus.
The right brain has been thought to be the more non-linear, more creative hemisphere. When the creative abilities are accessed, people begin to trust that they can experience more than they ever expected, and past life recall often follows. This process is like opening a door into deeper consciousness.
Our past conditioning defines us – how can we break free of this and realise our true potential?
Through awareness and mindfulness, the shackles of our cultural conditioning can be cast off. When past lives are recalled, when an expanded spiritual consciousness is experienced, we see that we are so much more than we had thought. Realizing our new depths and true nature, we become free of the old conditioning.
Grief is very much part of life, but many of us have difficulty dealing with it. What new perspective can you offer us?
To know that we all survive the death of the body, because we are spiritual beings not physical bodies, puts grief into a different perspective. Our loved ones are also spiritual beings, so we are always being reunited, either on the other side or back here in physical bodies. Our bodies might die, but our souls are eternal.
Your book Miracles Happen has a chapter on the role animals play in our lives. What role have they played in your life?
I have always been around animals, and the most important role they play, I believe, is teaching us about unconditional love. They teach so much more, of course, such as consuming only in moderation and protecting nature, but to me the lesson of unconditional love is primary.
What small daily actions can I take to unlock my inner potential?
Practicing mindfulness, such as being aware of the present moment, is a small but important practice. Letting go of fear is another, because fear can paralyze us. Practicing kindness to all people and all things is another important action.
Visit hayhouse.com.au for more information on Brian Weiss's visit to Australia.
Originally published on Mar 06, 2014