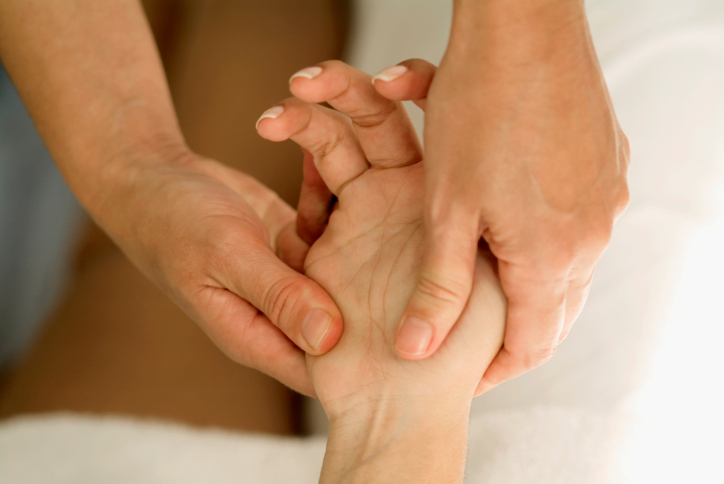 Doesn't matter why it's disappeared, but one of the quickest ways to get it back is with massage. Your smile, that is. We need lots of smiles; they're one of the simplest ways to make sure we have a constant stream of endorphins, otherwise known as the "happy hormones".
Lots of things cause a rush of endorphins, like sun and smiles; just smiling for no good reason at all is enough. Just do it, and even if you hate every minute of it, your body will reward you by producing those endorphins, and you'll end up feeling better whether you like it or not.
Pain Relief
If you've got arthritis, feeling better is certainly something you'll be wanting. But you'll be even more interested in the other huge effect of those endorphins – pain relief. You don't have to rely on sex or a sunny day; a smile and some massage are quicker. The two together will beat every other form of treatment.
Short and specific massage can be an effective way to quickly reduce pain. You'll get even better results if you use essential oils such as Black pepper, Ginger, Juniper and Rosemary as part of the treatment, adding them to the soaking water, massage oil or moisturizer.
Massage Techniques For Self or Therapist
Wrist or small joint
Fill a basin with hot water and soak the hand and wrist in it for 10 minutes. Take it out and dry. Sit up at a table so you're supported. Rest the elbow and hand of the sore side on a table in front of you, palm down. With the middle 3 fingers of the other hand, make slow deep circles in the tissue, covering the whole area. Turn the hand over and repeat on the other side. Turn back to first side. Place your other hand flat on top of sore wrist, and with thumb under the sore wrist, push tissue up the forearm as though pushing up a sleeve. This helps to push fluid out of the tissues. Repeat this several times. Finally, massage your favourite cream into the area, adding a drop or two of ginger, peppermint or eucalyptus essential oil.
Hand massage
Hand massage is effective whether you do it yourself or have it done by someone else. No special technique needed. Just slowly massage one finger at a time, with or without oil, using thumb and index finger of the other hand. Use tiny circles to cover each finger minutely, starting at the tip and working up towards the wrist. Using oil to which you've added ginger essential oil will enhance the effects of the massage. It can be done equally well dry. Finish each finger as with the wrist massage – pushing the fluid out of the finger toward the wrist, then use moisturizer with an added 1 drop of peppermint essential oil.
Foot massage
Put a towel on the floor under a basin. To the basin of hot water, add a handful of marbles or smooth pebbles, and 5 drops each of juniper and ginger essential oils (dissolved in 1 tablespoon of milk) Soak quietly, then after a few minutes, start moving feet over the stones, one at a time. There's no rush, just move them as much as you comfortably can. Try to pick up the stones with your toes. When you're ready, lift feet out, onto the towel, and drop another towel on top. They'll dry without you having to bend down.
Hot stone massage
Best left to a therapist. This massage will give you a level of relaxation and pain-relief that you'd probably forgotten was possible. The combination of warm stones, warm oil and massage is a perfect way to loosen up stiff sore joints. You'll have to work at getting the smile to disappear after this one.
Many types of massage work well to induce relaxation and reduce the pain associated with arthritis. If you can add in your own quick and free treatments, you can look forward to a lot more comfort. And that's comfort on demand. Of course, a professional treatment is an important part of your management plan, and if you watch how the therapist works, you might pick up some more good tips.
Find a massage therapist in your area and see how you can benefit from a professional treatment.
Do you have a passion for Massage? Would you love to turn your passion for Massage into a rewarding career?
Check out the information we have available on what the Massage course involves and thousands of other Natural Therapy Courses we have available online and throughout Australia. Why not let us help you find the right course for you today on 1300 924 960
Originally published on Feb 01, 2012