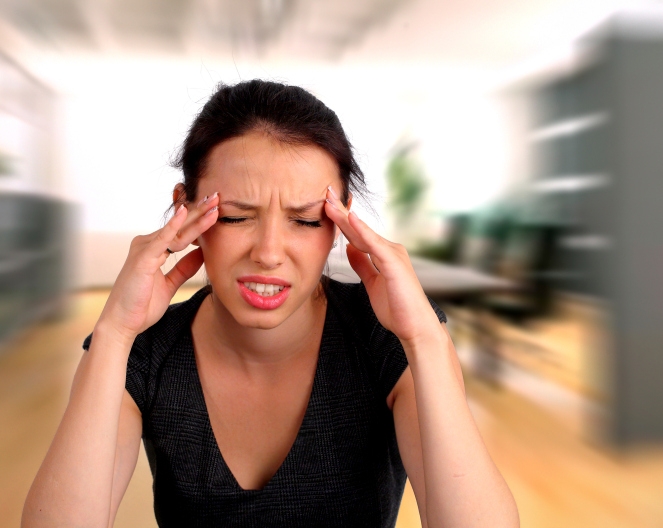 Migraine sufferers will tell you that a migraine headache is unmistakable:
A pounding headache (which is often only on one side of your head, or above one eye)
An "aura" that precedes the headache – so you can tell when it's going to start
Nausea and occasional vomiting
Feeling dizzy or reacting to light and/or specific smells
Noticing a pattern to the migraines occurring – maybe they always arrive on weekends when you are relaxed, or at specific times in your menstrual cycle
Eating certain foods will trigger migraines too: chocolate, wine and cheese are often the most likely suspects although some migraine sufferers report other triggers.
The fun starts when you look at what you can do to reduce the pain and frequency of migraine headaches. The standard allopathic response involves very strong analgesics and a suggestion that you look into reducing stress in your life. Lowering your stress levels will help. However for long term benefit you may want to consider changes to those areas of your life that are most closely linked to your migraines. Consider your work-life balance and diet to begin with.
Why Reflexology for Migraine Relief?
Reflexology is a great way of reducing the impact that migraines can have on your life. If time (and budget) allows, regular reflexology treatments in combination with adjustments to your diet and lifestyle can produce a dramatic change in your migraines. Working specific reflex points on your hands and feet in between treatments from a professional reflexologist can also enhance your sense of wellbeing and further reduce the effects of the migraine itself.
Specific Reflex Points to Relieve Migraines
Head & brain reflexes – the medial and lateral sides and the top of the big toes (or the thumbs in hand reflexology). Working these yourself during a migraine will also help to relieve pain
Spinal reflexes – found on the medial side of both feet, the spinal reflex area is most closely linked to the nervous system. As well as providing pain relief, working this area can support the parasympathetic nervous system and encourage you to relax. Work this area regularly to reduce the pain and frequency of your migraines.
Liver – The liver reflex is found on the plantar surface of the foot about one third of the way down the foot below the fourth and fifth toes. Work this area frequently if your migraines are linked to specific trigger foods.
Kidney and adrenals – found close to the medial arch and on the plantar surface of the foot, these two reflexes tend to be very sensitive in most people. Work them both regularly to help with detoxification. Working the adrenal glands also helps you to relax; focussing on this area will 'remind' the adrenal glands that they do not need to produce so much adrenalin
Solar plexus – An essential point to encourage relaxation. This point is found on the plantar surface of the foot just under the ball of the foot and between the second and third toes. It is easily accessed in hand reflexology too.Try to develop a habit of working this point yourself several times a day, especially in the days prior to when you might expect to have a migraine.
Balance – found against the base of the fourth toe, this is an important point to work if your migraines involve feelings of nausea and dizziness.
Find a reflexologist in your local area.
Do you have a passion for Reflexology? Would you love to turn your passion into a rewarding career?
Check out the information we have available on what the Reflexology courses involves and thousands of other Natural Therapy Courses we have available online and throughout Australia. Why not let us help you find the right course for you today on 1300 924 960
Originally published on Sep 07, 2011