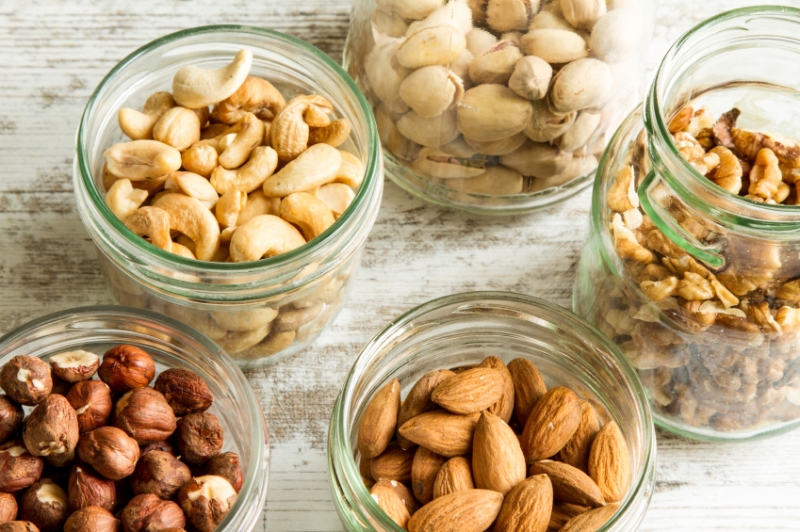 Nuts and seeds are essential to a healthy diet; they can help us maintain a healthy weight, as well as ward off health problems such as diabetes and heart disease, but not all nuts and seeds are the same.
So if choosing a healthy snack is driving you nuts, just check out this handy guide:
Think of your heart
When choosing nuts and seeds, always go for those that will keep your heart healthy. Generally speaking, nuts and seeds contain more polyunsaturated fat (the "good" kind) than saturated fat (the "bad" kind).
Heart-healthy options include:
Hazelnuts
Walnuts
Sunflower seeds
Soynuts and peanuts (these are actually legumes, but let's ignore that!)
Pumpkin seeds
Pistachios
Pecans
Steer clear of macadamia, cashew, and Brazil nuts as these are higher in saturated fat.
Go for smaller portions
It's easy to go overboard on nuts. But too much of a good thing can be a bad thing. Stick to smaller portions, as nuts and seeds are packed with oils, giving them a high caloric content.
There's no need to count out individual nuts and seeds. Just have a small handful each day, or sprinkle some seeds on your breakfast or in a salad for lunch.
Go natural
As with everything, the more processed a food the less natural it is – and the less beneficial it is for your health. So when possible, eat raw organic nuts and seeds. Shun those that are slicked in sugar or salt, chocolate and other toppings. And look for unsalted varieties.
If your shopping budget is tight, it's usually better to buy nuts and seeds from bulk bins than in little packets.
And if you have nuts and seeds leftover? Pop them in the fridge or freezer to keep them fresher for longer.
Your nutritionist or dietitian can help you incorporate nuts and seeds into your diet.
Originally published on Mar 30, 2016