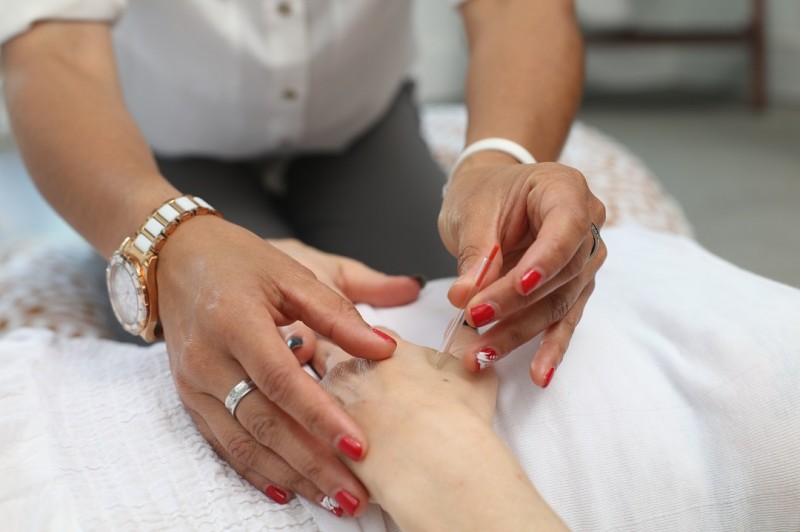 Scientists love studying acupuncture. And it's been shown, over many years, to benefit health and wellness in many ways. Now, University of California researchers say regular acupuncture can reduce hypertension.
Published in Nature's Scientific Reports, the study found that electroacupuncture works by boosting the release of an opioid in the part of the brain responsible for blood pressure.
What is electroacupuncture?
Electroacupuncture is a form of acupuncture that uses small electric current being passed between pairs of acupuncture needles. According to Acupuncture Today, "Electroacupuncture is quite similar to traditional acupuncture in that the same points are stimulated during treatment. As with traditional acupuncture, needles are inserted on specific points along the body. The needles are then attached to a device that generates continuous electric pulses using small clips. These devices are used to adjust the frequency and intensity of the impulse being delivered, depending on the condition being treated. Electroacupuncture uses two needles at time so that the impulses can pass from one needle to the other. Several pairs of needles can be stimulated simultaneously, usually for no more than 30 minutes at a time."
How was the discovery made?
The researchers, led by cardiology researcher Zhi-Ling Guo, ran experiments on lab rats. After receiving electroacupuncture, the rats experienced lower blood pressure for at least three days. This happened because the treatment boosted the release of a gene known as enkephalins.
As ScienceDaily reported, it "presents the first evidence of the molecular activity behind electroacupunture's hypertension-lowering benefits."
The study builds on research presented last year by the same team. They revealed that people who had acupuncture on pressure points in the wrist also had a decrease in blood pressure.
What's even more promising about the new study is that regular acupuncture could have a long-term effect on blood pressure, and could be used effectively to treat hypertension.
There are close to six million adults in Australia who have hypertension, 35.3% or three million of which are adult men, while 32.3% or 2.9 million adult women. Adults in regional or rural Australia have a 27% higher rate of hypertension compared to residents in metro areas. Given that hypertension affects 33.7% of Australian adults, finding new treatments - especially using natural therapies - is a huge step forward.
Do you have a natural health & wellness business?
Sign up now and advertise on Australia's #1 natural health website.
Or visit our Wellness Hub to help you stay current about the industry.
Originally published on Nov 23, 2018