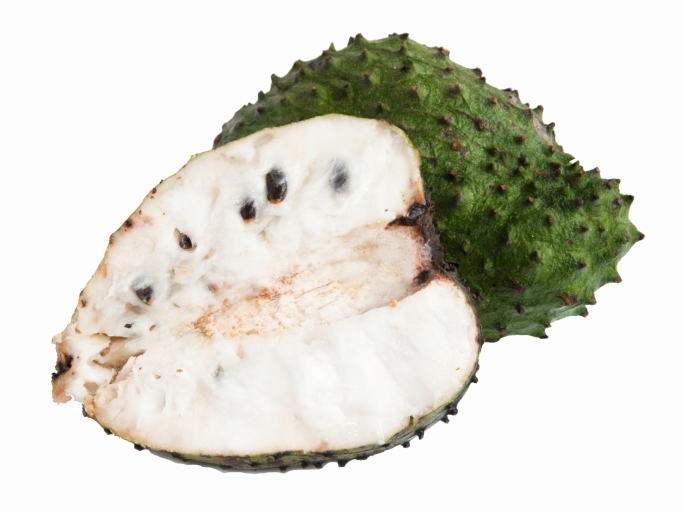 Soursop (botanical name: annona muricata) is a well known and highly regarded fruit in Asia and South America but it was until recently, it became known in the West. In cultures where it grows naturally it is not only known as a delicious fruit, but as well for its health and medicinal benefits. Native to South America and the sub-Saharan parts of Africa, soursop tree is also cultivated throughout southeast Asia, the Philippines and Indonesia and has become a staple fruit in those countries.
Health Benefits of Soursop Fruit
Soursop fruit is loaded with vitamins and other healthy ingredients which include:
Vitamin C
Vitamin B 1
Vitamin B12
Calcium
Iron
Healthy fats
Protein
Healthy carbohydrates
Additionally, soursop fruit is cholesterol free and low in calories, making it an ideal choice for snacks or a flavourful addition to a dessert.
Aside from the nutritional benefits a person could get from soursop, the fruit, seeds and leaves of soursop have been used for more than one hundred years in various ways in preventive and remedial medicine. Some of the traditional treatments include:
Soursop fruit seeds are used for treating vomiting
Soursop leaves are made into a poultice and used for the treatment of skin disorders
Soursop fruit pulp can be applied directly on wounds to help speed up healing time
Soursop root bark is used in treating poisoning
A soursop leaf tea or decoction can be applied topically to get rid of bed bugs and head lice
Although controversial, many people claim that soursop to be an effective treatment for cancer
It is interesting to note that despite the lack of scientific evidence to back up the claims, they are the traditional remedies that have been used for more than a hundred years.
How to Use Soursop Fruit
Traditionally, soursop is cut into segments and the white pulp is eaten along with the black seeds. Somewhat pulpy, many people prefer to drink the fruit as squeezed and chilled soursop juice. Soursop is now grown and cultivated in tropical regions of Australia and can be bought from supermarkets. Considered as novelty fruit by most, those who have tried it once look for it again and again. The fruit is usually harvested unripe because it bruises easily. The unripe fruit is dark green in color and hard to the touch. After a few days, the skin turns into a lighter shade of green and becomes softer to the touch. That will be the perfect time to eat soursop.
Soursop Fruit Recipes
Creative cooks are also looking for various ways to use soursop in desserts. Soursop cheesecake has a distinctively delicious flavour and texture and it is also used in homemade ice creams. Word is spreading fast about the fruit and before long, it may become a staple fruit in Australia, just as it is in other parts of the world.
Do you have a natural health & wellness business?
Sign up now and advertise on Australia's #1 natural health website.
Or visit our Wellness Hub to help you stay current about the industry.
Originally published on Mar 25, 2018