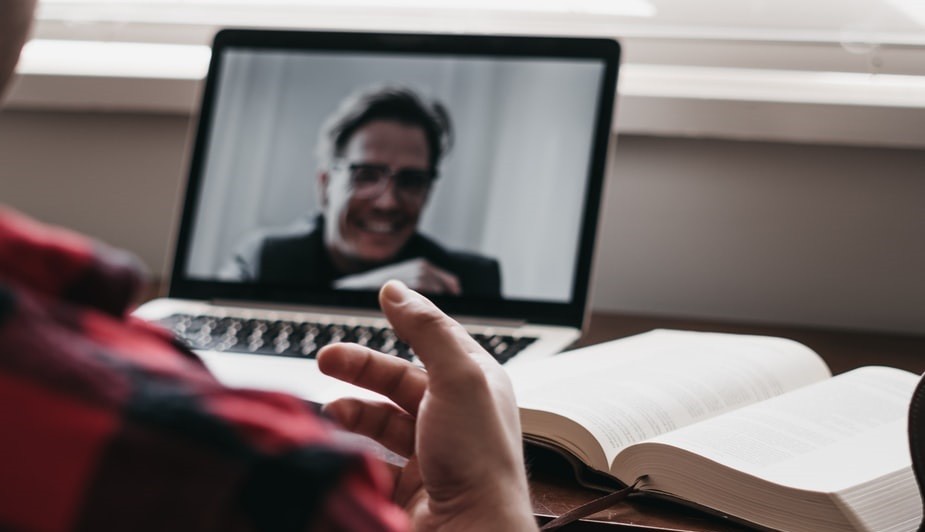 Tim, our new owner and CEO, is running an exclusive webinar for our members: How to Deliver Better Online Consultations.
Please read this and find the webinar invitation details below. Only 100 people can attend, so please make sure you register your details below before it fills up.
EDIT: You can now watch the webinar here.
2020 has been a challenging year for practitioners and businesses alike. We've been pushed to learn new skills and change the way we deliver our services.
Telehealth - the provision of health services online or over the phone - has now become a vital way for many practitioners to stay afloat and continue doing what they love.
We're confident that online consultations will continue to be a popular and convenient way for people to seek health advice into the future.
In fact, our research shows that almost 84% of people are open to having a video consultation with a natural health practitioner: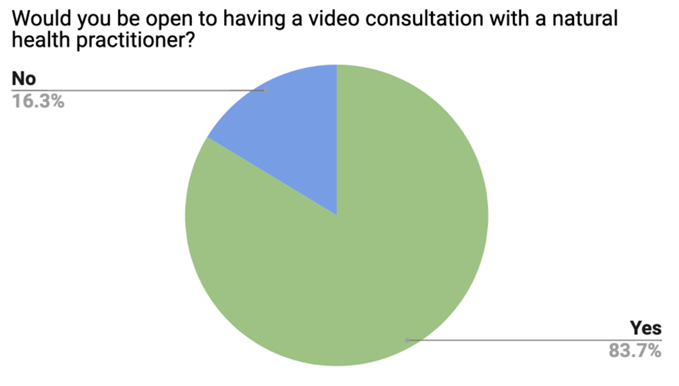 Nothing will replace the face-to-face element of an in-person consultation, but online consultations give practitioners a chance to actually improve the quality of their service in different ways.
But before we get to that, we have to get the basics right. Proper etiquette and professionalism will set a higher standard for how you interact with your clients over an online consultation.
Here's our top tips.
Before the consultation
Ensure your background is appropriate, with no distracting images behind you. The last thing you want is a client to be trying to read the book titles in your bookshelf behind you - it means they're not focusing on what you have to say.
Lighting is very important. Make sure that you've got the appropriate lighting set up behind your computer, facing you to light up your face. Avoid having any lights behind you which shine into the webcam. Doing this will ensure you're clearly visible in the frame. You can purchase some affordable lighting online from Kogan here.
Ensure you have a strong internet connection. Run the Telstra speed test to ensure your connection is fast. If it's not great, we'd recommend looking into getting a better internet connection. A quality connection goes a long way.
Test your camera and audio before getting on the call. You can join a test meeting in zoom to make sure your internet connection, audio and video is working properly.
Have your client's info in front of you - including a phone number in case the connection fails
In your Zoom settings, have a virtual waiting room so you have control over who enters the call (this also ensures privacy)
During the session
Confirm that the client can see and hear you well
Ensure the client is comfortable with the setup, and allow them to ask any questions about online consults (this may be new for them too!)
Look directly at the camera when possible - this will mimic the connection of direct contact as if you were speaking in-person.
As always, communication is key. Make sure your current clients know that you're available for online consultations by promoting yourself on social media, through email, and on your NTP profile page.
Now, as we mentioned, our CEO is running a webinar for our members on how to deliver better online video consultations. The webinar will take place in two weeks on Wednesday 11th November, at 12pm AEST.
Please register here.
We look forward to seeing you at the webinar.
EDIT: You can now watch the webinar here.
Do you have a natural health & wellness business?
Sign up now and advertise on Australia's #1 natural health website.
Or visit our Wellness Hub to help you stay current about the industry.
Originally published on Nov 02, 2020