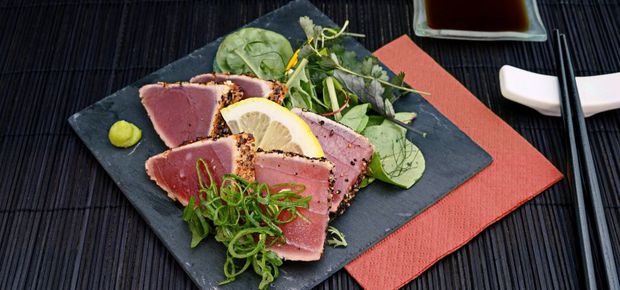 You've no doubt heard the warnings that tuna fish can contain mercury. But what does the mercury alert mean, and should we be concerned?
We've lifted the canned tuna lid to put the issue under the spotlight.
Australian Food Standards warning
Let's start with what the Australian experts say - specifically Food Standards. In this fact sheet, the organisation stresses the importance of fish as part of a healthy diet, thanks to its protein, omega-3 fatty acids, iodine, and vitamins.
It then says, "In deciding how much and what types of fish to eat, be aware that all fish contain a small amount of mercury, with some types of fish having higher levels than others. Eating too much of those fish with high mercury levels, or eating them every day, could have harmful effects."
Check out the recommendation table in the link above, to see how much fish to eat as an adult, child, or pregnant woman.
Above all, it's very important when weighing up the risk of fish to consider the situation here in Australia. Why?
"The details of the advice given for other countries may vary because the risk of mercury exposure from the diet depends on the environment in that country, the type of fish commonly caught and eaten, the patterns of fish consumption and the consumption of other foods that may also contain mercury."
Why is mercury a problem?
Mercury is an element naturally found in our oceans, so it's only natural that every fish will contain some level of methylmercury. Thankfully, according to Food Standards, most fish contains a significantly low level of methylmercury - so small that we don't have to worry about it.
That being said, bigger fish tend to have more mercury - since they-re in the ocean longer. That's why giant tuna and swordfish have more mercury than a small whiting, for instance.
They say, "As most people consume only moderate amounts of fish, the benefits of eating fish far outweigh the risk posed by the small amount of methylmercury present."
What fish can I eat?
Despite what some people say, health authorities around the world stress that tinned tuna is OK to eat because the tuna used to make it is usually young and small. Of course, there are ethical and environmental concerns around how these fish are caught, so you have to make your own mind up on that one.
As Food Standards advises, limit your intake of big fish like shark, swordfish, and flake.
If you are pregnant or have young children, it's crucial to check the daily recommended levels of fish because you can be particularly vulnerable to mercury. In fact, mercury can cause injury to the lungs, kidneys, heart, and brain - and affect the developing foetus.
Do you have a natural health & wellness business?
Sign up now and advertise on Australia's #1 natural health website.
Or visit our Wellness Hub to help you stay current about the industry.