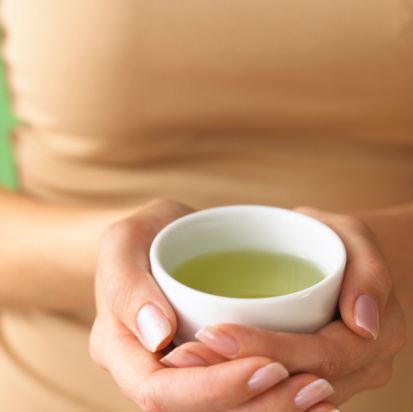 According to Chinese legend, the first person to drink green tea was Shennong, the "Divine Cultivator" in around 3000 BCE. The leaves fell into some water he was boiling. Shennong enjoyed the taste of his accidental concoction and also noted that it seemed to have medicinal properties. Whether this legend is true or not, green tea has enjoyed a folk reputation in Asian cultures for having preventive and restorative health powers throughout recorded history. Now modern science has discovered that green tea may be able to help prevent the onset of Alzheimer's, one of our most dreaded maladies.
It has been known for years that green tea leaves in their natural form contain certain chemical compounds that are beneficial to our health. However, some chemicals are altered in the digestive system and lose the potential effectiveness. Dr. Ed Okello and his team of researchers at Newcastle University set out to discover whether the known protective ingredients of undigested green tea remained effective when digested by the body. What Dr. Okello and his team discovered was that not only were the anti-Alzheimer's chemicals in green tea digested and absorbed, the digestive process actually appeared to make them more effective.
How May Green Tea Protect Against Alzheimer's?
The Newcastle University team collaborated with Dr Gordon McDougall of the Scottish Crop Research Institute in Dundee, using technology developed there that mimics the digestive system of the human body. In this way, they were able to isolate the compounds in green tea that may protect the brain from developing Alzheimer's. Known as polyphenols, these compounds bind with hydrogen peroxide and a protein called beta-amyloid, both of which are known to play roles in the development of Alzheimer's. The binding process is essentially the secret behind their effectiveness.
Other Exciting Discoveries about Green Tea
Dr. Okello and his team also carried out laboratory experiments to see if green tea may be able to fight cancer. The results of their experiments were very encouraging. According to Dr. Okello, the green tea compounds "significantly" slowed the growth of cancer cells in their experiment.
The verdict is not yet in and more studies need to be done on human volunteers, but this study shows great promise. Dr. Okello stresses that factors like a proper diet, exercise and a healthy overall lifestyle all have their benefits and should not be overlooked. However, it looks as if Shennong may have been right when he advocated green tea for health.