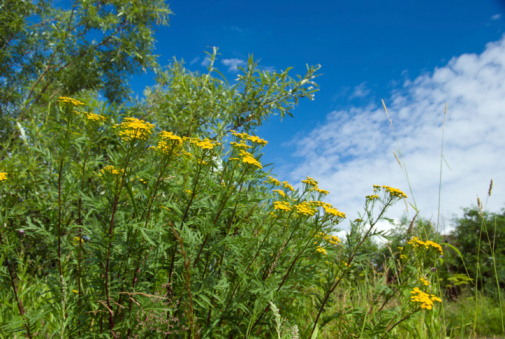 You wouldn't guess it if you were admiring the button-like yellow flowers of a tansy (Tanacetum vulgare), but this plant, native to Europe and Asia, may actually be able to help treat herpes. Also known as Mugwort or Golden Buttons, tansy has been a part of European folk medicine since Medieval times as a treatment for a variety of disorders ranging from fevers to rheumatism. While many of the plant's medicinal qualities are in dispute, researchers from Spain and Britain have found it contains unique antiviral properties that may assist in combating strains of herpes resistant to existing treatments.


How Tansy May Help Treat Herpes
In the study, Professor Francisco Parra of Spain's Universidad de Oviedo and his team joined forces with Dr Solomon Habtemariam and his research group from Great Britain's University of Greenwich to study the anti-viral properties of tansy. According to Professor Parra, who published the results of the joint study in Phytotherapy Research, their research showed that, contrary to previous speculation, "parthenolide is not one of the major anti HSV-1 principles of tansy." He went on to say that other antiviral substances were present in tansy that "are responsible for the supposed antiviral activity of tansy." These antiviral ingredients include 3,5-dicaffeoylquinic acid (3,5-DCQA) and axillarin. The exciting part of these findings is that these agents may help researchers find ways of treating two types of herpes, HSV-1 and HSV-2. As yet, researchers have found no effective treatment for herpes lesions caused by these viruses, both of which can create long term dermatological lesions.


The Broader Significance of the Tansy Study
The University of Greenwich conducts rigorous research into traditional European plant-based folk remedies. In this mechanistic based study, both raw extracts and purified compounds of tansy were used to isolate anti-herpetic ingredients in tansy. According to Professor Parra, tansy shows "clear potential" for being an efficacious treatment for herpes. He cautions that more work is needed, but concludes that "systematic pharmacological and phytochemical studies such as this can play pivotal roles in the modernisation of European traditional herbal medicines." In other words, he appears to say that modern medicine may be able to both validate and improve upon traditional folk medicine.

As anyone who suffers from either Herpes Simplex 1 (cold sores) or genital herpes (HSV-2) can attest, while these conditions may not be life threatening, they certainly alter one's quality of life. There are no known cures for either of these conditions and although tansy does not promise to be a cure, the study reveals that it may be an effective treatment for the painful symptoms associated with both HSV-1 and HSV-2. This in itself has to be welcome news to herpes sufferers.
Originally published on Mar 01, 2011