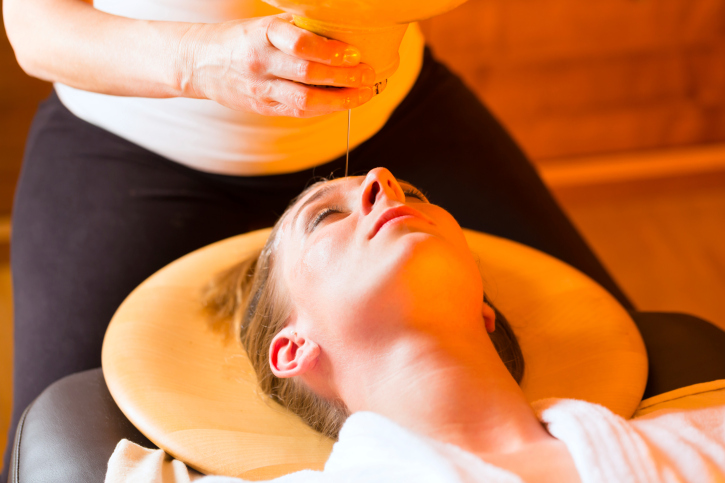 Picture yourself lying on a massage table in a warm, darkened room. You close your eyes and as your body relaxes, a tepid liquid drips onto your forehead and down your temples. As it slides down the side of your face, the sensation reminds you of a soft cloth being peeled off your skin. This luxurious treatment is known as Shirodhara and it is, quite simply, heavenly.
What is Shirodhara?
Shirodhara is derived from two Sanskrit words – shiras (head) and dhara (flow). It's a sensuous Ayurvedic treatment that involves a gentle stream of liquid (often coconut water or oil, medicated milk or sesame oil) being poured over your third eye, situated between your eyebrows.
What can Shirodhara treat?
Aside from being a wonderful relaxer and stress reliever, Shirodhara has been used for eons to treat a wide range of common conditions. Numerous studies have shown that the relaxing Ayurvedic treatment is ideal for:
Skin disorders such as psoriasis
Insomnia
Headaches and migraine
Anxiety and depression
Psychosis
Visual impairments
Shirodhara is also reportedly beneficial for circulation and can help nourish and moisturise the hair and skin.
What to Expect
You can certainly expect an experience unlike any other, and you'll soon see why Shirodhara is often referred to as bliss therapy.
As you lie on the massage table and await the treatment, your practitioner will likely prepare a pot and fill it with oil. You might like to ask the therapist which oil they use and why, as some liquids are used for certain ailments.
Often, a length of twisted rope is fed through the bottom of the pot. The oil then slinks down the rope and slides over your third eye. Your therapist should let you lie on the table for five to fifteen minutes, so you can completely unwind.
Try Shirodhara
Ready to try this truly luxurious treatment? Find an Ayurveda practitioner in your local area to book your treatment.
Do you have a natural health & wellness business?
Sign up now and advertise on Australia's #1 natural health website.
Or visit our Wellness Hub to help you stay current about the industry.
Originally published on May 24, 2013