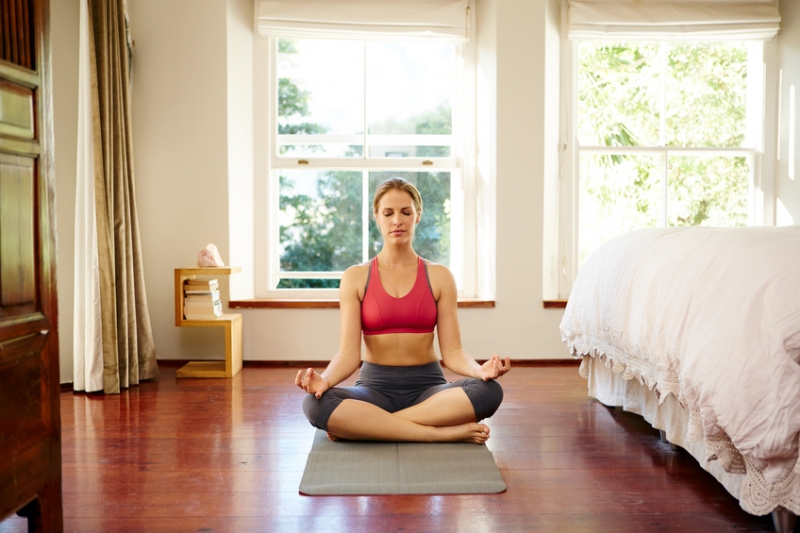 Meditation is a practice – it's something we get better at and experience more deeply the most often we do it.
While meditating any time, on any day, is sure to bring bountiful benefits, many meditation experts say first thing in the morning is the best time to practice.
Here's why and how to do it!
Getting started
As soon as you wake up, you might like to stand up and stretch, perhaps wash your face and use the loo. Then, find a quiet spot to sit (it can be back in bed if you like!) and practice between 5 and 20 minutes of meditation. You may find it easier to work your way up to longer sessions.
Set yourself up for the day
Why start each day with meditation – and not with a walk or checking your social media or reading the newspaper?
Because meditation helps you set your intention. It calms the mind, provides clarity, and helps you cultivate a healthy mindset for the day ahead. Especially if you have a hectic schedule, meditation puts you in the right headspace so you have the strength and resilience to tackle whatever comes at you.
Skip coffee
Some of us swear by a morning coffee to wake up and face the day. After a while, you are likely to find that meditation gives you that morning buzz without the need for caffeine!
And that's because meditation kick-starts the parasympathetic nervous system, releasing endorphins and providing a burst of energy.
Ward off illness and injury
Several reputable studies have suggested that meditating regularly can help manage most modern illnesses and diseases – including cancer, heart disease, mental illness, sleep problems, and seasonal colds and flu.
Incorporate meditation into your morning routine and you'll no doubt notice a difference in the way you feel inside and out.
Stress free
Imagine breezing through your day without stress, simply going with the flow while also enjoying enhanced productivity. It's possible with morning meditation. Meditation focuses the mind – what we call mindfulness – so even if someone cuts in front of you in the supermarket queue, or a colleague delays a project, you'll be better equipped to manage your emotions and deal with it. Not only that, but meditation boosts creativity – double win!
For more tips and advice, speak to a meditation practitioner.
Do you love Meditation? Would you like to turn this love for Meditation into a rewarding career?
Then maybe you want to check out the these Meditation courses available all over Australia. Or maybe other Natural Therapy Courses that may be of interest to you. Why not let us help you find the right course for you today!
Originally published on Jul 08, 2016