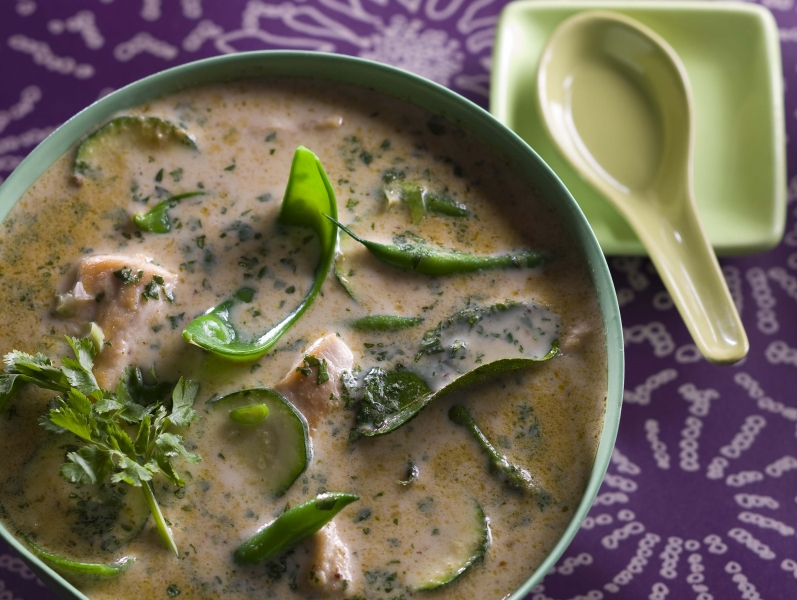 This scrumptious recipe is from The Complete Food Makeover book, written by naturopath and nutritionist Julie Maree Wood.
Like red curry paste, green curry paste varies considerably between brands so check labels very carefully. Look at the total fat and saturated fat content. A serve of this fab curry is only 5.5 grams of fat. The fat version has 66 grams!
Serves: 4
Difficulty: medium
Takes: 20 minutes to prep, 25 minutes to cook
Ingredients
1 teaspoon peanut oil
500g skinless chicken breast fillets, fat trimmed and sliced into chunks
11/2 tablespoons low-fat green curry paste
2 fresh kaffir lime leaves, spines removed and roughly chopped
1 tablespoon brown sugar
2 tablespoons fish sauce
1/4 cup chopped Thai or sweet basil leaves
1/4 cup chopped coriander
250g green beans, trimmed and sliced into 3cm pieces
2 zucchini, finely sliced
1/2 cup (125ml) water
2 cups (500ml) low-fat coconut-flavoured evaporated milk
12 snow peas, trimmed
2 tablespoons flat-leaf parsley leaves
1 long green chilli, thinly sliced
2 spring onions thinly sliced
Method
Heat the peanut oil in a large frying pan to medium-hot and cook the chicken in batches, until just cooked through.
Remove from the pan and drain on absorbent paper.
Fry the curry paste in the pan for 1–2 minutes until fragrant. Add the lime leaves. Cook for a further minute, stirring constantly.
Add the sugar, fish sauce, Thai basil, coriander, green beans, zucchini and water to the curry mixture and stir to combine. Cook for 5 minutes, or until the vegetables are just tender.
Add the evaporated milk, chicken and snow peas, and simmer for a further 2 minutes until the milk, chicken and the snow peas are gently warmed through.
Serve topped with parsley, chilli and spring onions.
Serving suggestion: Serve with brown rice and lightly steamed broccoli and cauliflower.
For a food nerd: Replace the chicken with a 400g tin of drained and washed chickpeas.
1 Serve - 5.5g total fat, 2.2g saturated fat, 1451kJ (345.5 calories), 32g carbohydrates, 42g protein, 4g fibre
For more healthy recipes, go here.
Do you have a natural health & wellness business?
Sign up now and advertise on Australia's #1 natural health website.
Or visit our Wellness Hub to help you stay current about the industry.