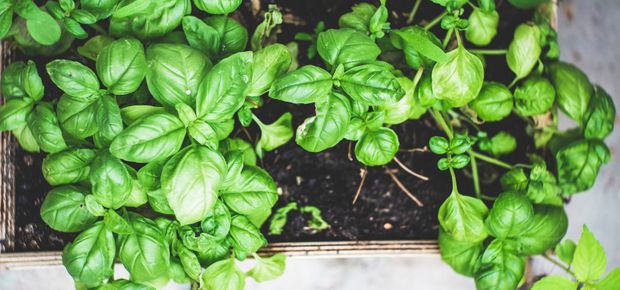 We've all learned about the awesome health benefits of broccoli and tomotoes. But what about basil? Let's learn now while we also have this easy and healthy recipe for pesto, whose main ingredient is basil.
Health benefits of basil
Basil is considered as the "queen of herbs". And here are the reasons:
Reduce stress and anxiety
Stimulate and vitalize your body
Protect against infection and treat wounds
Lower your blood sugar
Lower your cholesterol
Ease inflammation and joint pain
Protect your stomach
Easy healthy pesto & vegetable pasta recipe
This classic pasta dish is combined with balsamic-roasted tomatoes, tender broccoli, and crunchy walnuts to make it extra scrumptious. You're going to impress even your toughest critic with this flavoursome offering.
Ingredients
1 punnet cherry tomatoes
1 head broccoli
1 packet walnuts
1 packet penne
1/2 unit lemon
1 block Parmesan cheese
1 tub traditional pesto
olive oil
1 tbs balsamic vinegar
Method
Preheat the oven to 220°C/200°C fan-forced. Bring a large saucepan of salted water to the boil. Slice the cherry tomatoes in half. Chop the broccoli into 2 cm florets. Roughly chop the walnuts.
In a medium bowl, toss the cherry tomatoes with the balsamic vinegar, a pinch of salt and pepper and olive oil and marinate for 10-15 minutes. Place the tomatoes on an oven tray lined with baking paper and put in the oven to cook for 15 minutes, or until blistered. For the final 5 minutes, add the chopped walnuts to the tray and cook until toasted.
While the tomatoes are roasting, add the penne to the saucepan of boiling water. Follow the cooking instructions on the package. In the last 5 minutes, add the broccoli. Reserve 1 tbs of pasta water, drain and return to the saucepan. Drizzle with olive oil and stir through the reserved pasta water. Cover with a lid to keep warm.
While the pasta is cooking, slice the lemon into wedges and finely grate the Parmesan cheese.
Add the traditional pesto, roasted cherry tomatoes, walnuts and any remaining dressing from the tray to the saucepan with the pasta and broccoli. Squeeze over the juice from a lemon and stir to combine. Season to taste with a pinch of salt and pepper.
Serve topped with the Parmesan and enjoy!
For more simple and health recipes, go to this page.
Do you have a natural health & wellness business?
Sign up now and advertise on Australia's #1 natural health website.
Or visit our Wellness Hub to help you stay current about the industry.