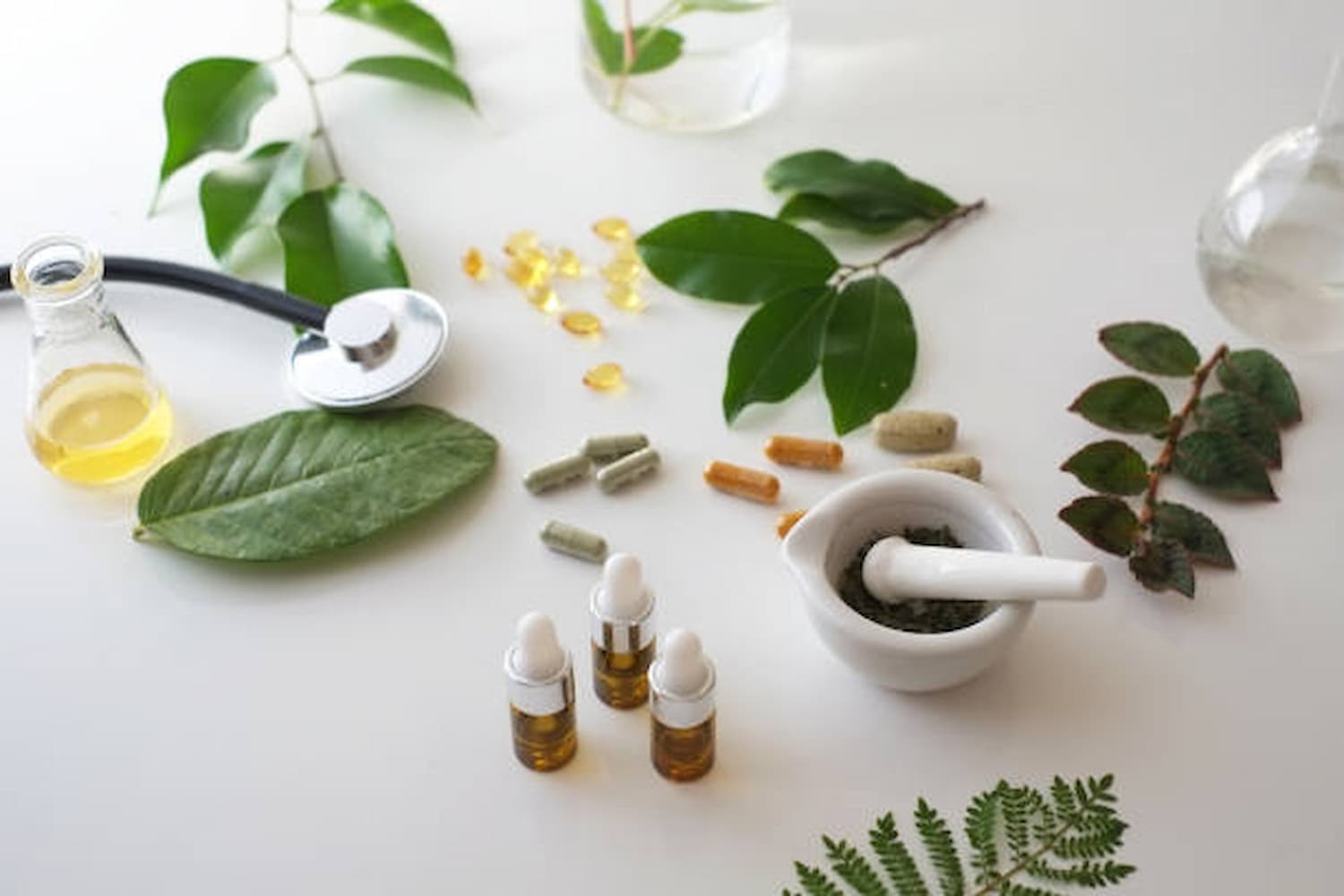 Do you want to offer your Ayurvedic services or products to people who want to learn more about Ayurvedic medicine but don't know where to start? Making your Ayurvedic clinic visible to potential clients will undoubtedly result in increased foot traffic. Continue reading to learn about the six best ways to advertise your Ayurvedic practice.
Modern advertising strategies for complementary medicine
Whether you're selling herbal products or offering specialised Ayurvedic preparations to address a kapha dosha imbalance or other health issues caused by an imbalanced body type, you shouldn't downplay the power of digital advertising. It's a modern business standard that can propel your business to success. If you cut corners in the hope of using word of mouth or distributing flyers around the neighbourhood, you'll almost certainly end up at the bottom of the pile of goods.
Unlike traditional advertising, which is expensive, online advertising is less costly but produces results faster. Here are the 6 tried-and-true advertising strategies that have propelled many Ayurvedic clinics and practitioners to success:
1. Build an easy-to-navigate website
Creating a website is similar to putting up signage on your office building. It should include your brand name, as well as your product information, or features and benefits of your services. Make sure that you include your pricing structure and, of course, your contact details. Consider the type and size of devices that visitors to your website may use, such as tablets and smartphones. Simply put, when designing your website, keep mobile in mind at all times.
2. Be visible on search engines
Having a website does not make you instantly visible in cyberspace. There's no way to find it if it's just crammed with images, whether moving or static, with no educational or informative content. The goal of having a website is to attract more eyeballs and increase your booking rate more than anything else. To achieve this, you must consistently produce high-quality content that includes keywords related to your offerings. So, if you offer Ayurvedic products or services in Sydney, use the keyword phrase "ayurveda practitioners Sydney" or something similar to appear on the first page of Google and other search engine results pages.
3. List your business on a reputable health & wellness site
Make sure your Ayurvedic business is listed on relevant websites with a high volume of monthly and yearly visitors. Getting featured on Natural Therapy Pages, which receives over two million visitors per year who are looking for natural health practitioners in their area, will undoubtedly increase your online visibility. If you're an Ayurvedic practitioner in Sydney, for example, and list your business on this platform, people searching for "ayurvedic practitioners Sydney" will easily find you on the first page of Google. The screenshot below shows Natural Therapy Pages ranking in the top three for the specified keyword on Google, which is beneficial for practitioners who use this keyword.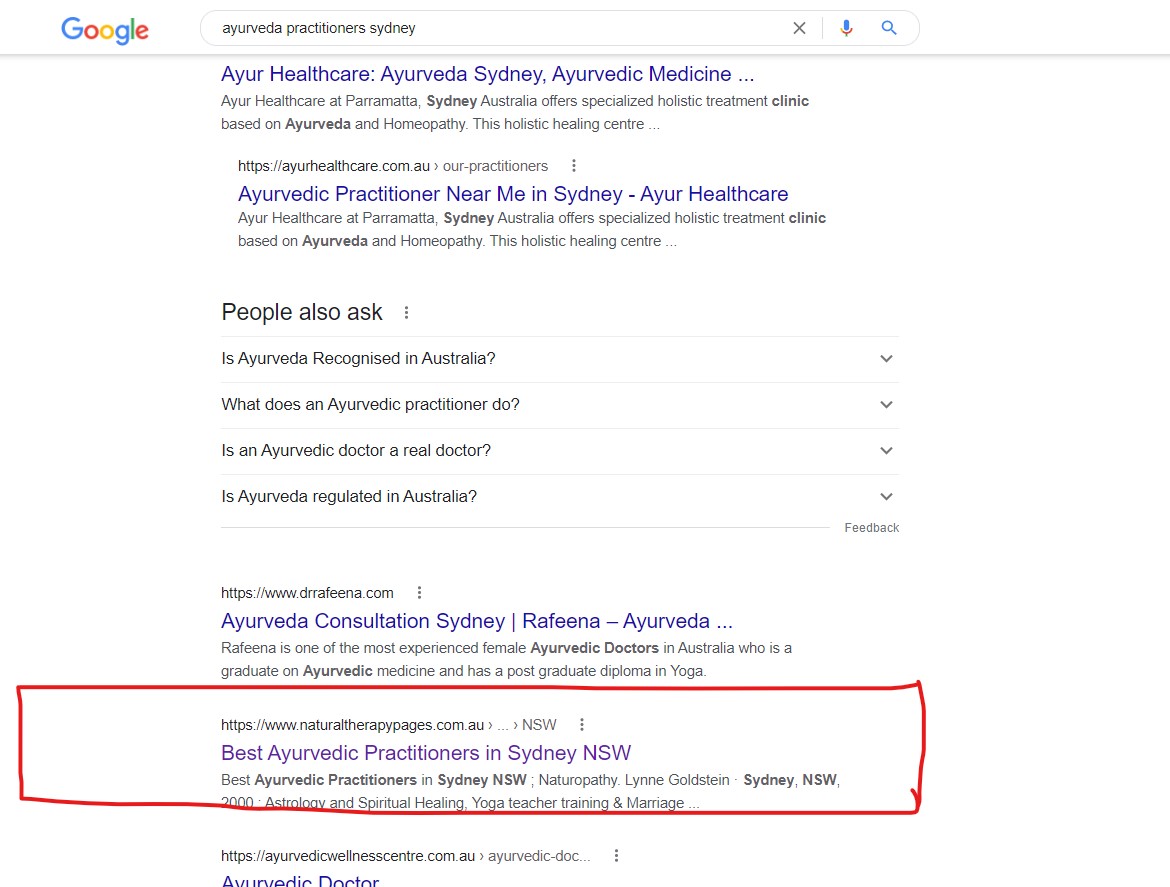 4. Use Pay-Per-Click
Compared to traditional newspaper ads, billboards and TV commercials, the pay-per-click advertising model is more cost-effective because the advertiser only pays for each ad clicked. Moreover, anyone who clicks on your ad is more likely to buy your product or use your service. When creating PPC ads, make sure to include relevant links to generate clicks that convert to revenue.
5. Connect via email
Email marketing is an excellent way to acquire new customers while keeping existing ones interested in your Ayurvedic products and services. You can use email newsletters to not only keep track of what your customers need, but also to strengthen your relationship with them. Remember that no one wants to feel neglected, so email marketing is a great way to show your clients that their needs (and wants!) are important to you.
6. Be active on social media
Promoting your Ayurvedic practice through social media is a more convenient and cost-effective alternative to pay-per-click advertising. However, it does require time, effort and consistency. Be sure to post quality content and respond to comments on your posts in a timely manner. This shows your followers that their opinions matter to you and that you are willing to lend a helping hand to them.
That concludes our list of the top 5 advertising strategies for hurtling your Ayurvedic practice to success and attracting new clients. Try at least two of these and let us know how you get on. Best of luck!