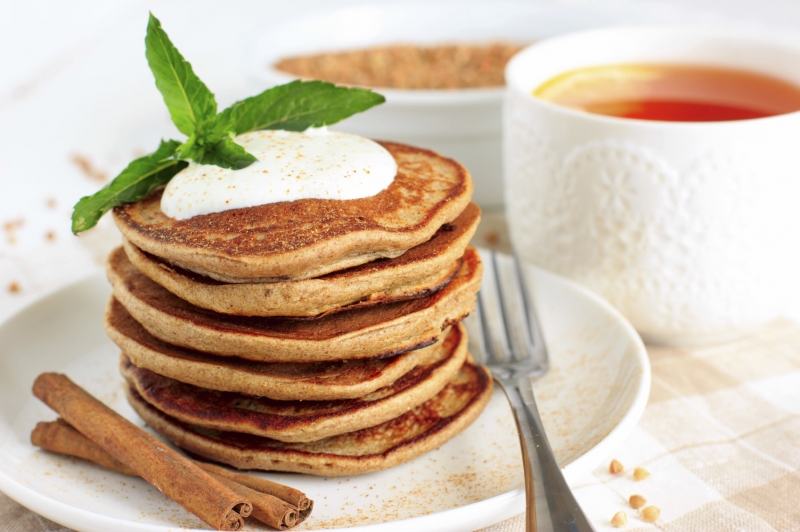 These little golden gems are easy peasy to put together and taste delicious.
Sweetness is derived from banana and just a smidgen of maple syrup. No need for any more!
Buckwheat boasts an impressive nutritional profile, delivering a rich supply of flavonoids (rutin and quercetin) that act as antioxidants and support cardiovascular health.
If I can get my hands on some sprouted buckwheat flour, then it's a bonus; otherwise, good old straight-up buckwheat flour does the job just fine.
The batter will keep in the fridge for up to 2 days. If it thickens, just add a little more coconut milk or water.
Finally, you could also use ghee for panfrying. Ghee is clarified butter, meaning that all the milk solids have been removed, leaving behind a pure, nourishing and stable fat. Those very sensitive to dairy, stick to coconut oil.
Ingredients
1 cup buckwheat flour (sprouted if available)
1/2 teaspoon aluminium-free baking soda
2 teaspoons aluminium-free baking powder
A pinch of sea salt
1 1/2 full fat coconut milk
1 ripe banana
1/2 teaspoon vanilla essence
2 teaspoons cold pressed macadamia oil
2 teaspoons maple syrup
1 organic egg
Coconut oil for panfrying
Method
Place all ingredients except for the coconut oil in a food processor and process until a smooth batter is formed.
Heat a little coconut oil in a non-stick frying pan. Pour approximately 1/3 cup of batter onto the hot pan. Cook for 3 minutes (or until pancake can be flipped) and then 1-2 minutes on the other side.
Add more coconut oil as needed to make the rest of the pancakes.
Serving Suggestions
Your choice of fresh fruit, coarsely chopped nuts, coconut yoghurt or sheep's yoghurt (if no issue with dairy), a drizzle of maple syrup
Nut spread, sliced banana and maple syrup
Your call!
For more awesome, delicious and healthy recipes, go here.
Do you have a natural health & wellness business?
Sign up now and advertise on Australia's #1 natural health website.
Or visit our Wellness Hub to help you stay current about the industry.