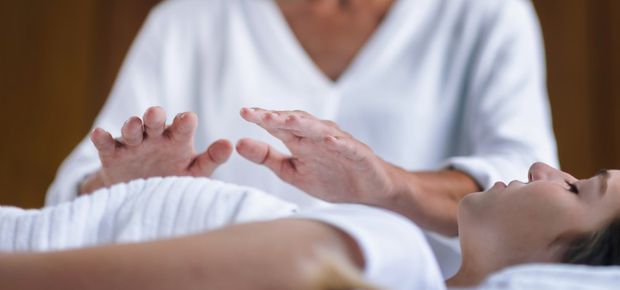 Reiki is a gentle technique that reduces stress and promotes healing and relaxation. It is a simple and safe holistic therapy that influences the body, mind, emotions and spirit.
Reiki Transforms Energy
Reiki is grounded in the belief that life force energy flows within us all. When this life force energy is low, stress, illness and disease occur. Reiki works by improving this life force energy and bringing about a sense of peace and wellbeing and enhancing a person's quality of life.
Reiki Treatment
To receive reiki a person can sit in a chair or lie on a padded table. They remain fully clothed. A reiki practitioner then gently places their hands on or near certain points of the body. Treatment usually lasts between 60-90 minutes and is deeply relaxing. Reiki is simple to learn and can be taught to people so they can perform reiki on themselves.
Reiki Principles
Reiki is a spiritual healing practice but it is not a religion. Since reiki was developed in the 1920s different systems of reiki have developed. However, they all share the same five precepts or principles:
Do not become angry
Worry about nothing
Express your gratitude
Be diligent in your work
Be kind to others
Reiki Complements Other Treatments
Reiki can promote healing on its own but can also support other healing modalities. Reiki doesn't interfere with or diminish the effects of other health or medical practices and can:
Reduce negative side effects
Shorten healing time
Reduce or elimiate pain
Reduce stress
Help create optimism
Reiki is increasingly accepted in health and community care facilities including hospitals, hospices and cancer support units.
Reiki is a healing practice that is so gentle it can be safely performed on babies, the frail and the sick. It brings about a deep sense of relaxation and contentment and can complement other healing treatments.
Find a reiki practitioner in your local area.
Do you have a passion for Reiki? Would you love to turn your passion for Reiki into a rewarding career?
Check out the information we have available on what the Reiki course involves and thousands of other Natural Therapy Courses we have available online and throughout Australia. Why not let us help you find the right course for you today on 1300 924 960
Originally published on Jun 28, 2011