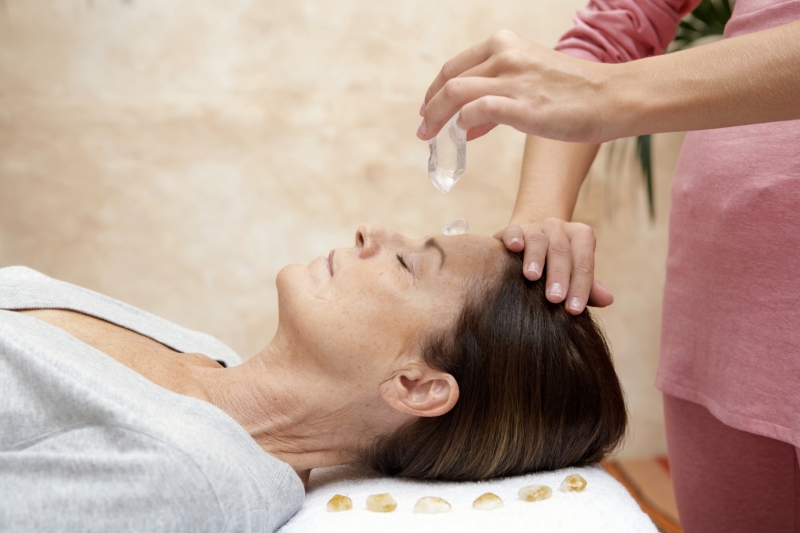 Did you know that your body can heal itself? The question is how can you strengthen your mind, body and spirit, so that self-healing is possible? Crystal reiki massage is one therapy that may help.
An Introduction to Crystal Reiki:
In crystal reiki, crystals are used with reiki to prompt the mind, body and spirit to heal. It makes sense, given that crystals have been used for eons to heal illness and ailments.

Every reiki practitioner will have a slightly different practice, but some may place crystals around or on you to begin the healing session. They may also play soft music throughout the healing session and will probably speak with you before they begin, to find out what your issues and expectations are, and explain how the crystal reiki session will work.
Why Use Crystals in Reiki?
Some reiki practitioners say using crystals is like having another pair of hands which is why some reiki therapists may incorporate crystals into their practice, or provide crystal reiki as a service separate to reiki.

They will choose the crystals depending on your needs; for instance, yellow stones may help balance the solar plexus chakra whereas blue opeal or chrysocola may help balance the throat chakra. Your therapist may use a clear crystal, since it aids all chakras.
How does Crystal Reiki Work?
In a typical 45 – 60 minute crystal reiki session, the therapist will move around you and may place their hands over you to help channel your energy and balance your chakras. What you experience during the session is distinctly individual, as it depends on why you're having the treatment and what the therapist has proposed for your healing.

Your therapist may places crystal or stones on or around you on the table. Larger crystals will probably be placed under the table for your comfort. After your session, feel confident asking your therapist about the crystals that they used. They may also be able to recommend crystals you can keep at home, to balance your chakras and promote self-healing.
Originally published on Jan 13, 2015